(ITUNES OR LISTEN HERE)
The Free Open Access Medical Education (FOAM)
We cover the Taming the SRU podcast, "Ketamine Cagematch" (iTunes), a debate between Dr. Minh Le Cong and Dr. Chris Zammit.
Dogma persists that ketamine may increase intracranial pressure, which would be bad in traumatic brain injury (TBI) given the fixed space in the cranial vault.  These are largely from Yet, these patients often need sedation, for agitation or intubation, and drops in blood pressure are also deleterious (see EMCrit on neuroprotective intubation).
PRO (Le Cong): The literature doesn't show clinically significant deleterious outcomes from ketamine use in the head injured patient.  Review in Annals on ketamine and ICP.  Deleterious effects of apnea may result from other sedative agents.
CON (Zammit): Studies showing that ketamine does not increase ICP confounded by the presence of other sedatives on board.  As a result, there may still be a risk to using ketamine in these patients.
The Bread and Butter
We cover key points on concussion and mild TBI from Tintinalli 254 but to be honest, Rosenalli is lacking on this topic so we've turned to the ACEP clinical policy, AAN guidelines, Ontario Pediatric Guidelines, and the  AAP guidelines on the topic.  But, don't just take our word for it.  Go enrich your fundamental understanding yourself.
Mild TBI and concussion are often referred to interchangeably and the definition varies [1-3].  Unfortunately, concussion is often thought of only in the sports population and not all-comers to the Emergency Department (ED) so patients may not receive proper .
Definition: Essentially, any alteration in mental status following head injury. Per the CDC:  Head injury from blunt trauma or acceleration/deceleration with GCS 14-15 PLUS
observed or self-reported transient confusion, disorientation, or impaired consciousness
Amnesia around the time of injury
Signs of other neurologic or neuropsychological dysfunction
Any loss of consciousness (LOC) less than 30 minutes (!) [3]
For more on how reliable LOC is in these patients, see this post.
Causes: Falls and motor vehicle collisions are the most common causes in adults, whereas sports are the more common in kids.
The effects on the brain are largely a result of "secondary injury," consistent of alterations in ion-channel, metabolic pathways, and electrochemical imbalances.  These are more functional than structural.
Symptoms: There's a good bit of overlap with migraine, more significant head trauma, and symptoms that may be confused for behavioral issues in younger populations.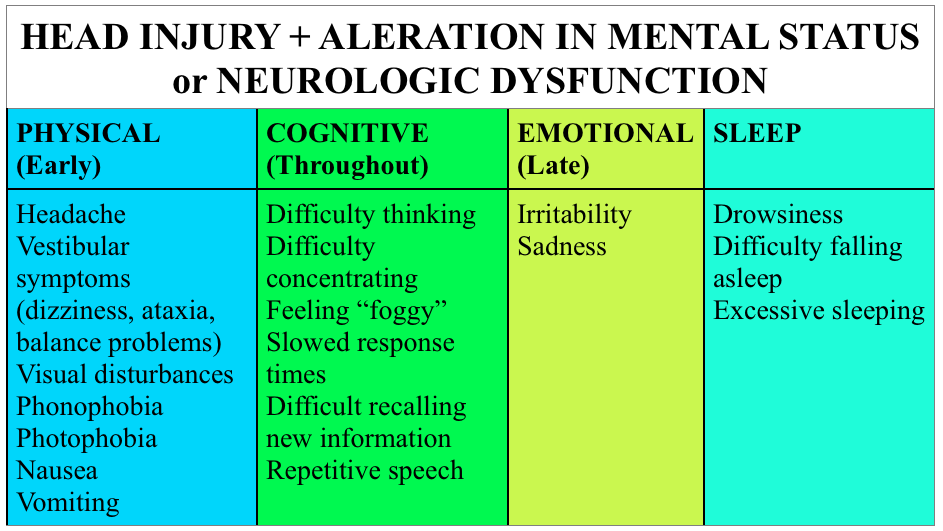 Testing: Not all head injuries require imaging.  Certainly, patients with focal neurologic findings warrant imaging; yet, in other cases, validated decision aids exist to help determine which patients may or may not need imaging.  In adults, we like the Canadian CT Head tool , although the ACEP clinical policy uses the New Orleans Criteria.  For a solid review of the two, check out this SGEM episode.  In children, consider the use of the PECARN decision aid. Otherwise, a good neurologic exam and observation should suffice.
Something to consider – patients often believe that a "normal" CT scan of the head means that they don't have a concussion.  As a result, they may not take concussion precautions seriously.  In this case, imaging may provide false reassurance.
There's increased attention on biomarkers like GFAP, total tau, and S-100B but these are not ready for prime time and are not incredibly specific [3].  Further, standardized assessment tools such as SCAT3 and ACE may be useful, but are used predominantly on-site for sports related incidents.
Treatment
Education – this is one of the biggest areas in which ED providers may make a difference. Give patients or family members precautions for concussion, even if the injury or mechanism seems relatively mild.  Studies show that a majority of pediatric patients do not follow up as instructed after a concussion [4].  Perhaps communication of the the potential gravity of concussion and long-term implications may improve follow up.
Rest – This the is the mainstay of initial treatment for most mild TBI [1-3, 5].  It's unclear how strict this rest needs to be, but a recent study in the pediatric literature found no benefit to strict rest versus standard instructions (1-2 days rest + graduated return) [6].
Graduated return to activity – after a period of rest, it's recommended to slowly resume activities, spending at least 24 hours at each level of increased activity.  If an individual gets symptomatic, they should return to the level of activity at which they were asymptomatic (see the Zurich protocol).
Return to play – clearing people from the ED is NOT a good idea.  For those on the sidelines, a player should be removed from activity for the day after a suspected concussion.
Why do we care in the ED?
Quality of Life – Concussive symptoms can be quite disabling.  Giving patients a name for their symptoms, resources, and education may help them understand the process of recovery and available resources.
Second Impact Syndrome – A second head injury in a patient symptomatic from a concussion may experience diffuse cerebral edema, possibly from loss of cerebral autoregulation.* [2]
Post Concussion Syndrome (PCS) – a subset of the concussion population will have persistence of symptoms which, if they persist > 1 week to 3 months after the injury, is deemed PCS. *  This is thought to be more prevalent in individuals with a history of depression, anxiety, or migraines and in those with more severe ED presentations [2].
Bouncebacks – Patients may present to the ED with symptoms of concussion but may not give a history of significant trauma.  Remember that concussion may occur after a seemingly minor bump to the head and elderly may need extra support with activities of daily living or may bounce back with a more life threatening injury.
Lack of follow up.  While some may follow up with concussion specialists, the majority of our patient population lacks the ability for meaningful or specialist follow up.  We can't assume that someone else is going to guide our patients through concussion recovery or that when we write "follow  up with _____" that it will happen.  Our care may be it, make it good.
*The literature on these is sparse and complicated by variable definitions, information, and standardized reporting.
 Generously Donated Rosh Review Questions (scroll for answers)
Question 1. A 33-year-old man with no past medical history presents with a headache 3 days after a closed head injury. The patient states that he stood up from kneeling and hit the top of his head on a wood cabinet. There was no loss of consciousness or seizure activity. In addition to the headache, he complains of difficulty concentrating at work and dizziness. His physical examination is unremarkable.[polldaddy poll=8663736]
Question 2. A 42-year-old man is brought to the ED after he tripped and fell while he and his wife were on a walk. His wife notes that she saw him hit his head on the pavement and that he did not respond to her for 45 seconds. When he started to respond, she says that he was very confused. In the ED, his vital signs are BP 135/75, HR 88, RR 14, and oxygen saturation 98% on room air. On exam, you note some minor lacerations on the patient's upper extremities, face, and scalp and his GCS is 15. As the wife recounts what happened, the patient does not recall any of the events and continuously asks to repeat what happened to him. A CT scan of the brain is normal. The patient is diagnosed with a concussion and is ready to be discharged from the ED. [polldaddy poll=8663741]
References
1. Tavender EJ, Bosch M, Green S, et al. Quality and consistency of guidelines for the management of mild traumatic brain injury in the emergency department. Acad Emerg Med. 2011;18:(8)880-9. [pubmed]
2. Haydel M.  Management Of Mild Traumatic Brain Injury In The Emergency Department. Emergency Medicine Practice.  September 2012 Volume 14, Number 9
3. Jagoda AS, Bazarian JJ, Bruns JJ, et al. Clinical policy: neuroimaging and decisionmaking in adult mild traumatic brain injury in the acute setting. Ann Emerg Med. 2008;52:(6)714-48. [pubmed]
4.Hwang V, Trickey AW, Lormel C, et al. Are pediatric concussion patients compliant with discharge instructions? J Trauma Acute Care Surg. 2014;77(1):117–22; discussion 122.
5. Brown NJ, Mannix RC, O'Brien MJ, Gostine D, Collins MW, Meehan WP. Effect of cognitive activity level on duration of post-concussion symptoms. Pediatrics. 2014;133(2):e299–304.
6.Thomas DG, Apps JN, Hoffmann RG, McCrea M, Hammeke T. Benefits of strict rest after acute concussion: a randomized controlled trial. Pediatrics. 2015;135:(2)213-23. [pubmed]
Answers
 1.  D.  The patient presents with minor head trauma and complaints consistent with a concussion and should have neurology follow up arranged. A concussion is a minor TBI that is often seen in MVCs and collision sports (football, hockey). It is typically caused by a rotational injury or an acceleration-deceleration injury. Patients will present with a number of non-specific symptoms including headaches, dizziness, confusion, amnesia, difficulty concentrating, and blurry vision but do not have focal neurologic findings. Despite the absence of severe intracranial injury, patients can have chronic and debilitating symptoms from concussions. Neurology referral is recommended, as patients should have functional testing and tracking of their symptoms for resolution. It is vital to counsel patients to avoid contact sports or activities that increased the risk of recurrent injury as these patients are at risk for more severe injury with second impact.In the absence of focal neurologic findings, absence of antiplatelet or anticoagulant use and minor trauma, imaging is not needed (A, B, C).
2. Cerebral concussions are clinically characterized by headaches, confusion, dizziness, and amnesia for the event. Concussions are characterized by a transient loss of consciousness that occurs immediately following blunt, nonprenetrating head trauma, caused by impairment of the reticular activating system. Concussions present without focal neurologic deficits, and CT and MRI show no acute abnormalities. Although not commonly performed for concussions, functional imaging, such a PET scan, may show changes in blood flow and glucose uptake. It is critical to inform the patient and his or her family of the second impact syndrome (SIS), which occurs when a patient suffers a second concussion after being symptom-free from the first. Although SIS is more common in sports based injuries, especially among teenagers, the risk of serious sequelae following a second concussion is immense. Due to neurochemical and autoregulatory changes that may still be present, a second concussion soon after a first generally produces a rapid neurologic decline that proves fatal. Patients should be told to avoid activities that could cause falls or trauma for at least 1 week after the patient is completely asymptomatic from the first concussion. Most patients with a concussion can be discharged from the emergency department and advised to follow-up with a primary care physician within 1 week (B). Although some patients have only transient symptoms from a concussion, others may experience persistent symptoms termed postconcussive syndrome (PCS).  PCS symptoms most often include headache as well as memory, sensory, sleep, and concentration disturbances. It is important to consider PCS in all patients with a concussion, but a primary care physician is generally able to care for these patients. It is unnecessary to obtain an MRI (C).  Although patients should avoid trauma and falls for at least 1 week after being completely asymptomatic after the first concussion, a change insleeping position (D) is unnecessary.
Podcast: Play in new window | Download