(ITUNES OR LISTEN HERE)
The Free Open Access Medical Education (FOAM)
HEFT EMcast has produced an excellent podcast summary of the literature demonstrating that needle decompression at the 2nd intercostal space at the midclavicular line (2ICS MCL) is likely to fail.  They review a systematic review and meta-analysis by Laan et al in 2015 that suggests the fifth intercostal space at the anterior axillary line (5ICS AAL) is less likely to fail [1].
Problems with the 2ICS MCL (For more detail on this, see this post) 
Chest Wall Thickness – to achieve a success rate >90% of the time with needle decompression at the 2ICS MCL, a [1,2]
The 2ICS MCL is Difficult to Find– one study of emergency physicians found that providers could find the 2ICS MCL 60% of the time. Similarly, a blinded cadaveric study in which naval corpsmen who had just had a refresher course in needle decompress were asked to needle decompress cadavers at the 2ICS MCL and 5ICS AAL.  They found 80% correct placement in the 5ICS AAL group compared with a mere 30% in the 2ICS MCL group [3,4].
Important vascular structures nearby – the heart and great arteries lie nearby the 2ICS MCL and given the frequent misplacement of these catheters, these structures may be injured. Of note, placement aiming for the 5ICS AAL, if too inferiorly placed, could result in liver or splenic injury.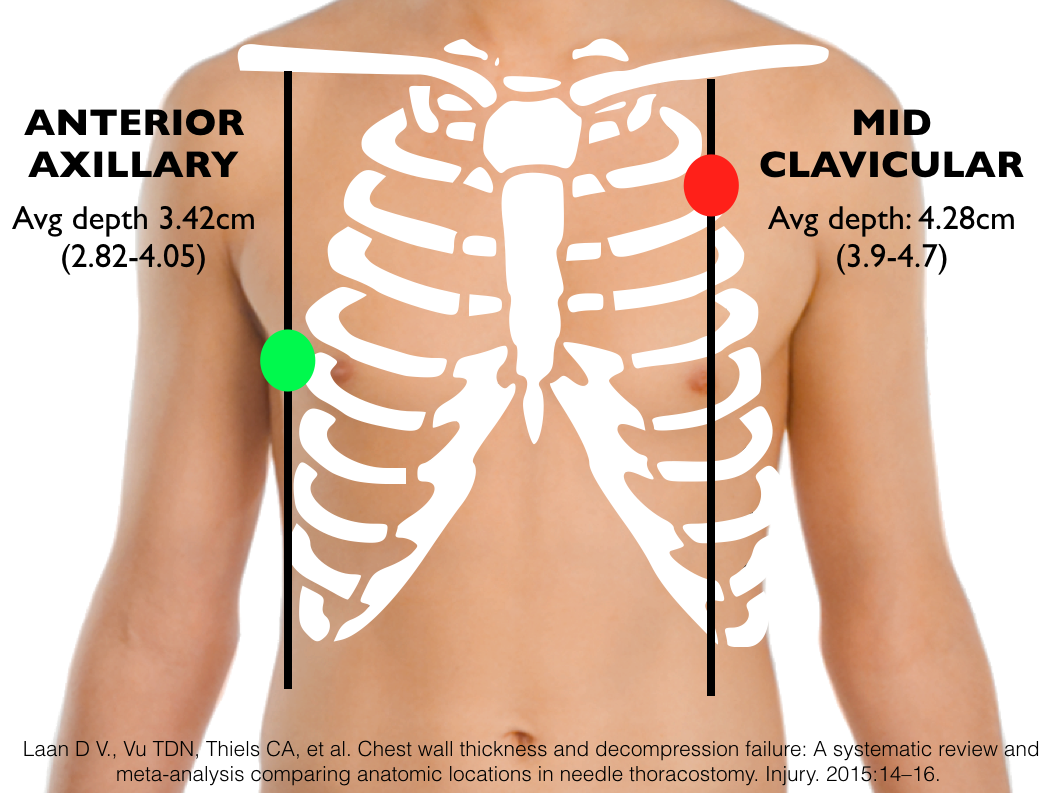 Core Content
We delve into core content on pneumothorax and empyema using Rosen's Medicine (8e),  Chapters 77 and Tintinalli's Emergency Medicine: A Comprehensive Study Guide  (8e) Chapters 68
Pneumothorax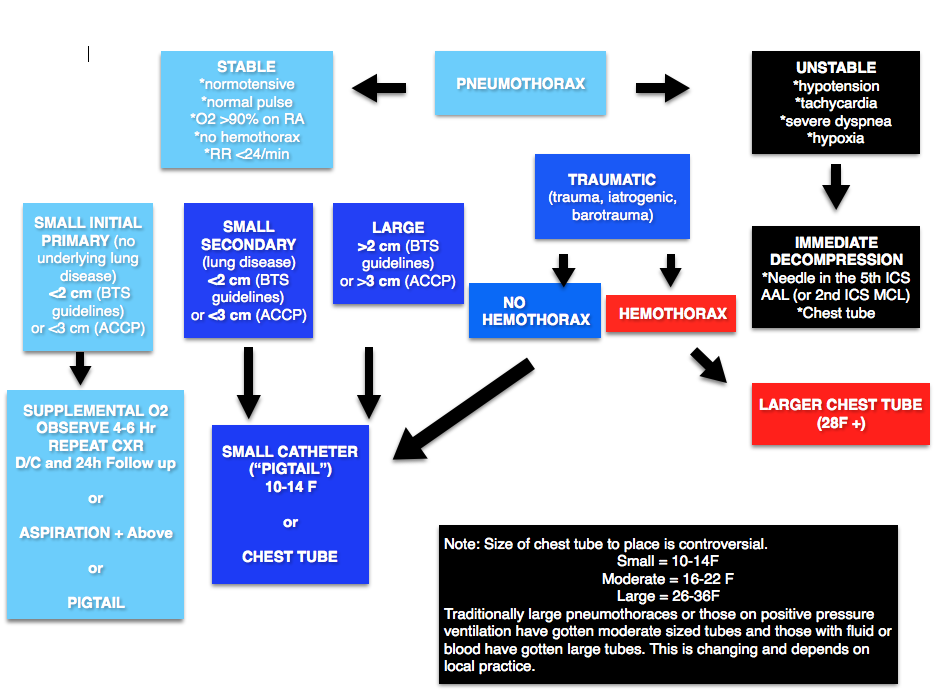 Smaller bore percutaneous tubes (seldinger technique) are becoming increasingly common, even in traumatic pneumothorax.  These tubes have the advantage of smaller size, less pain, and reduced infection.  However, they may be more prone to kinking and may be less desireable for some fluid collections [6-19].  See this post for more on percutaneous tubes.
Open pneumothorax ("sucking chest wound"): communication between the surrounding environment and the pleural space, often due to penetrating trauma but may occur in its absence.
Treatment:  3 sided dressing (occlusive dressing could create tension) followed by chest tube (not inserted into wound).
Empyema  
Infection between the visceral pleura which covers the lung and the parietal pleura which covers the thoracic wall.
Causes: 
Parapneumonic effusions (i.e. effusions that came as a result of an underlying pneumonia)- most common causes of pneumonia (s. pneumo or s. aureus. or H flu if not vaccinated)

Trauma (iatrogenic or otherwise, i.e. retained hemothorax):  gram negative bacilli.
Clinical symptoms:
Fever

Cough

Pleuritic chest pain

Decreased breath sounds.
Phases:
Exudative (early) – drainage, antibiotics
Fibropurluent (middle) – fibrinolytics +/- video assisted thorascopic surgery (VATS)
Organizational (late) – VATS and/or surgery
Generously Donated Rosh Review Questions
Question 1. A 22-year-old woman with a history of asthma presents with chest pain. Over the last several days, the patient has been coughing due to an asthma exacerbation. Today she developed sharp chest pain in the middle of her chest.  A chest X-ray is shown below.[polldaddy poll=9349650] Answer
D. Pneumomediastinum is free air contained within the mediastinum of the chest, most commonly due to air originating in the alveolar space. Air escapes from ruptured alveoli along the peribronchial vascular sheaths to the hilum and into the mediastinum. However, other causes like Boorhaeve's syndrome and traumatic chest injury can lead to pneumomediastinum. The patient's outcome is typically related to the underlying cause. In most cases, patients are hemodynamically stable and only require supportive care and observation. The condition rarely progresses to become tension pneumomediastinum and therefore surgical intereventions are not necessary. Approximately 14% of patients with pneumomediastinum have an associated pneumothorax. CT scan of the chest (A) may identify other pathology causing pneumomediastinum. However, in this patient with a history of asthma and recent coughing, a ruptured alveolus is the likely culprit. Additional investigation with CT scan is not necessary. High flow oxygen therapy (B) is often used for nitrogen washout in the treatment of a pneumothorax. In patients with pneumomediastinum, this is not necessary. A pig tail catheter (C) has been reported in some case reports however, surgical intervention with a catheter is rarely needed in the condition because of its stability. This differs from isolated peumopericardium because pneumocardium should not rise above the level of the pericardial reflection which it does in this case. In addition, the history of chest pain after coughing due to asthma is also consistent with pneumomediastinum.
Question 2. You are caring for an intubated patient diagnosed with sepsis that is awaiting a bed in the intensive care unit. The patient has peripheral intravenous access, however you decide to place a right-sided subclavian central venous catheter in order to measure central venous pressure, assess volume status and determine if vasopressors are indicated.  Shortly after successful line placement, the patient becomes hypotensive and develops high peak airway pressures. [polldaddy poll=9349659] Answer
C. The patient likely has a tension pneumothorax that resulted from subclavian central line placement combined with the fact that the patient is on positive pressure ventilation (PPV). The patient requires emergent needle thoracostomy in the right second intercostal space midclavicular line to alleviate the tension. Pneumothorax is a common complication associated with subclavian venipuncture and occurs in up to 6% of attempts. Patients on positive pressure ventilation are more likely to develop a tension pneumothorax due to increased intrapleural pressures.Tension pneumothorax is a clinical diagnosis not a radiographic diagnosis. Clinical signs and symptoms include hypotension, absent breath sounds on the affected side, trachea deviation away from the affected side and sudden resistance to ventilation for patients on PPV. This is life threatening and requires immediate attention. Waiting for radiology to come and perform a chest X-ray (A) can result in patient death. Patients may develop hypotension as a result of intubation and positive pressure ventilation. This generally occurs immediately following initiation of PPV and is secondary to decreased venous return. This is treated with an IV fluid bolus (B) however would not cause elevated peak airway pressures as in this scenario. Emergent pericardiocentesis (D) is performed for treatment of cardiac tamponade, which manifests as hypotension, muffled heart tones and jugular venous distention. This is unlikely to be the problem in this scenario.
References:
 Laan D V., Vu TDN, Thiels CA, et al. Chest wall thickness and decompression failure: A systematic review and meta-analysis comparing anatomic locations in needle thoracostomy. Injury. 2015:14–16. doi:10.1016/j.injury.2015.11.045.
Hecker M, Hegenscheid K, Völzke H, et al. Needle decompression of tension pneumothorax. J Trauma Acute Care Surg. 2016;80(1):119–124. doi:10.1097/TA.0000000000000878.
Aho JM, Thiels CA, El Khatib MM, et al. Needle thoracostomy. J Trauma Acute Care Surg. 2016;80(2):272–277. doi:10.1097/TA.0000000000000889.
Ferrie EP, Collum N, McGovern S. The right place in the right space? Awareness of site for needle thoracocentesis. Emerg Med J. 2005;22(11):788–789. doi:10.1136/emj.2004.015107.
Inaba K, Karamanos E, Skiada D, et al. Cadaveric comparison of the optimal site for needle decompression of tension pneumothorax by prehospital care providers. doi:10.1097/TA.0000000000000849.

 

Laws D et al. BTS guidelines for the insertion of a chest drain. Thorax. 2003 May;58 Suppl 2:ii53-9.

 Benton IJ, Benfield GF. Comparison of a large and small-calibre tube drain for managing spontaneous pneumothoraces. Respir Med. 2009 Oct;103(10):1436-40.

Dull KE, Fleisher GR. Pigtail catheters versus large-bore chest tubes for pneumothoraces in children treated in the emergency department. Pediatr Emerg Care. 2002 Aug;18(4):265-7.

Gammie JS et al. The pigtail catheters for pleural drainages: a less invasive alternative to tube thoracostomy. JSLS. 1999 Jan-Mar;3(1):57–61.

 Kuo HC, et al. Small-bore pigtail catheters for the treatment of primary spontaneous pneumothorax in young adolescents. Emerg Med J. 2013 Mar;30(3):e17.

Repanshek ZD, Ufberg JW, Vilke GM, Chan TC, Harrigan RA. Alternative Treatments of Pneumothorax. J Emerg Med. 2013 Feb;44(2):457-466.

Hassani B, Foote J, Borgundvaag B. Outpatient management of primary spontaneous pneumothorax in the emergency department of a community hospital using a small-bore catheter and a Heimlich valve. Acad Emerg Med. 2009 Jun;16(6):513-8.

Kulvatunyou N, Vijayasekaran A, Hansen A, et al. Two-year experience of using pigtail catheters to treat traumatic pneumothorax: a changing trend. J Trauma. 2011 Nov;71(5):1104-7.

Rivera L, O'Reilly EB, Sise MJ, et al. Small catheter tube thoracostomy: effective in managing chest trauma in stable patients. J Trauma. 2009 Feb;66(2):393–9

Kulvatunyou N, et al. A prospective randomized study of 14-French pigtail catheters vs 28F chest tubes in patients with traumatic pneumothorax: impact on tube-site pain and failure rate. EAST Annual Surgical Assembly, Oral paper 12, Jan 17, 2013.

Kulvatunyou N, Joseph B, Friese RS, et al. 14 French pigtail catheters placed by surgeons to drain blood on trauma patients. J Trauma Acute Care Surg. 2012;73(6):1423–1427.

Russo RM, Zakaluzny SA, Neff LP, et al. A pilot study of chest tube versus pigtail catheter drainage of acute hemothorax in swine. J Trauma Acute Care Surg. 2015;79(6):1038–1043.

 Liu YH, et al. Ultrasound-guided pigtail catheters for drainage of various pleural diseases. Am J Emerg Med. 2010 Oct;28(8):915-21

 Inaba K, Lustenberger T, Recinos G. Does size matter? A prospective analysis of 28-32 versus 36-40 French chest tube size in trauma. The journal of trauma and acute care surgery. 72(2):422-7. 2012.
Podcast: Play in new window | Download