We are in Las Vegas at ACEP 2016 and discuss high yield or cutting edge lectures each day.
Dr. Anne Daul – Emergency Care of the Transgender Patient
Most emergency medicine physicians and trainees lack training in caring for LGBTQ patients, let alone transgender patients [1].  Many members of the LGBTQ community may have delays in medical care including 21% of transgender patients in a Canadian survey[2].  Also, according to a 2010 task force, 19% of transgender patients report being denied care in some way [3].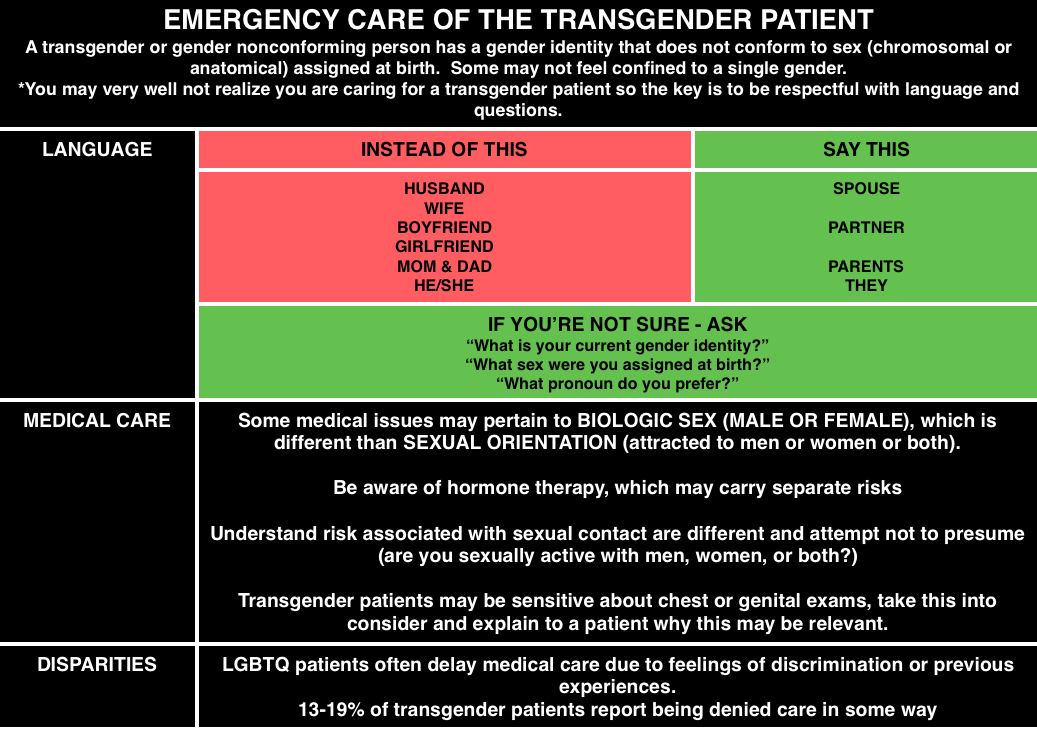 Here is a video from SMACC Dublin from Thom O'Neill on caring for LGBT youth
Check out these FOAM resources from EPMonthly and Mayo.
Dr. David Callaway – Active Shooter
2% of active shooter events take place in the health care setting.
Plan of Action in Active Shooter Scenario: AVOID DENY DEFEND TREAT
Avoid – stay away from the shooter.

Deny – deny them access to you or the area. Lock doors, block pathways, turn off the lights, make it more difficult for them.
Defend -.if necessary, defend yourself.
Treat – once you are safe, and the scene is safe, treat and care for your patients.
Dr. Kevin Klaur – Lawsuits
Documentation and discharge instructions repeatedly come up in lawsuits.
Documentation: If you document after the fact, particularly if there was a bad outcome – be straightforward that you are documenting after the fact. Do not document as though you do now know the outcome
Discharge – lawsuits often come up because discharge instructions or documentation were not sufficient. Klauer argues that it is not sufficient to state "patient improved, discharged home." He urges us to document a repeat exam or show HOW they are improved.
Dr. Klauer also gave some general pearls on lawsuits – high numbers for orthopedics/missed fractures and administration of RhoGham.  An additional pearl he gave was for cauda equina.
These patients often have small post void residuals because it's a neurogenic problem, not a mechanical obstruction.  Thus, if a patient has other features and has a post void residual of 100 cc, it's not necessarily not cauda equina.
One ACEP16 lecturer talked about magnesium use in alcohol withdrawal – probably not ready for prime time, Cochrane agrees  [4].
References: