(iTUNES OR LISTEN HERE)
Article highlights of 2016
Sepsis 3.0
Singer M, Deutschman CS, Seymour CW, et al: The Sepsis Definitions Task Force The Third International Consensus Definitions for Sepsis and Septic Shock (Sepsis-3).
This iteration of sepsis discarded systemic inflammatory response syndrome (SIRS), noting it's poor discriminatory ability.  Further, these authors sought to define sepsis as a dysregulated response to infection, not just a normal response to infection (i.e. fever and tachycardia are normal responses to infection and therefore are, alone, not evidence of sepsis).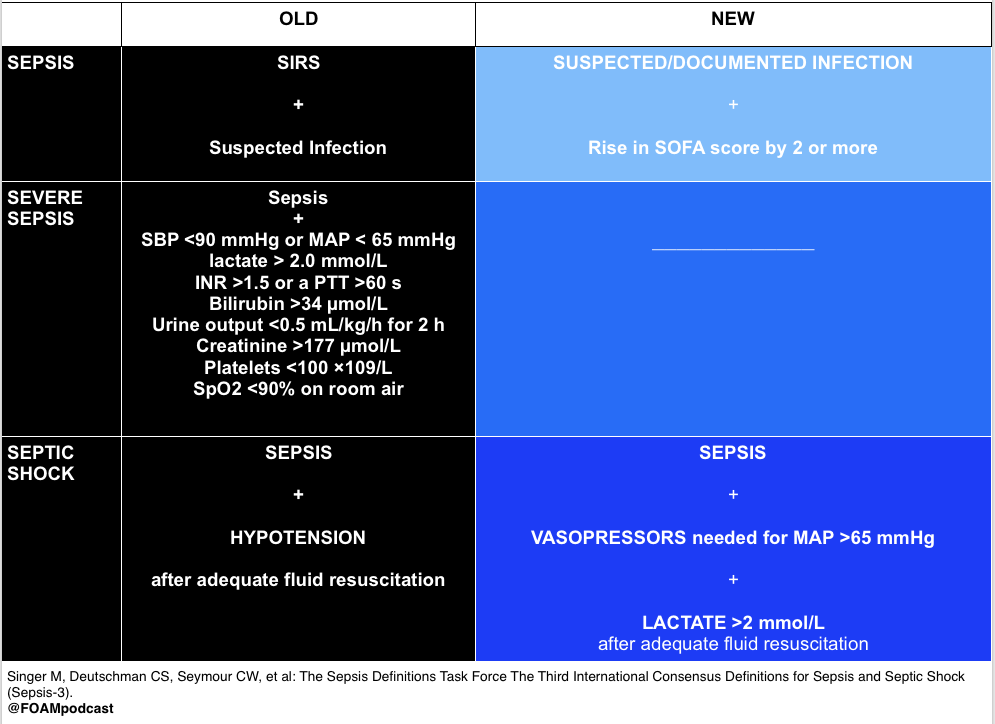 The quick SOFA score (qSOFA) also came out in hopes it "provides simple bedside criteria to identify adult patients with suspected infection who are likely to have poor outcomes."  It is not part of the sepsis definition  but may help in identifying those that will die or have a 3 day ICU stay.  Studies looking at the performance of qSOFA applied retrospectively to data sets have not been promising [1,2].
Back Up Head Elevated Intubation
Khandelwal et al. Head-elevated Patient Positioning Decreases Complications of Emergent Tracheal Intubation in the Ward and Intensive Care Unit. Anesthesia and Analgesia. Apr 2016.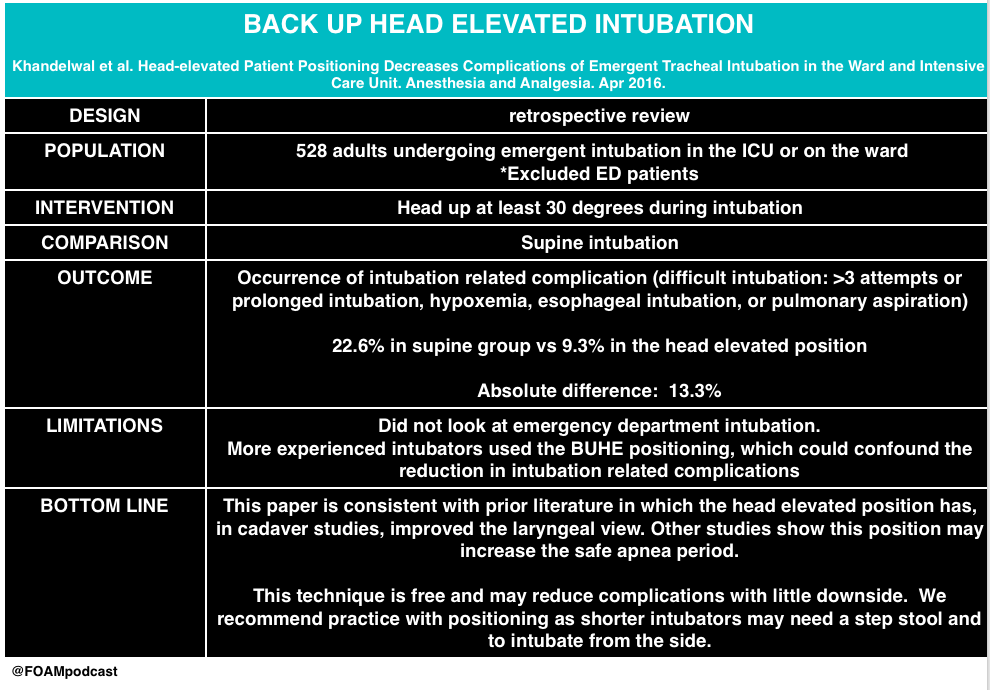 Ketorolac Dose
Motov, S, Yasavolian, M, Likourezos, A, et al. Comparison of Intravenous Ketorolac at Three Single-Dose Regimens for Treating Acute Pain in the Emergency Department. .Ann Emerg Med. 2016 Dec 16.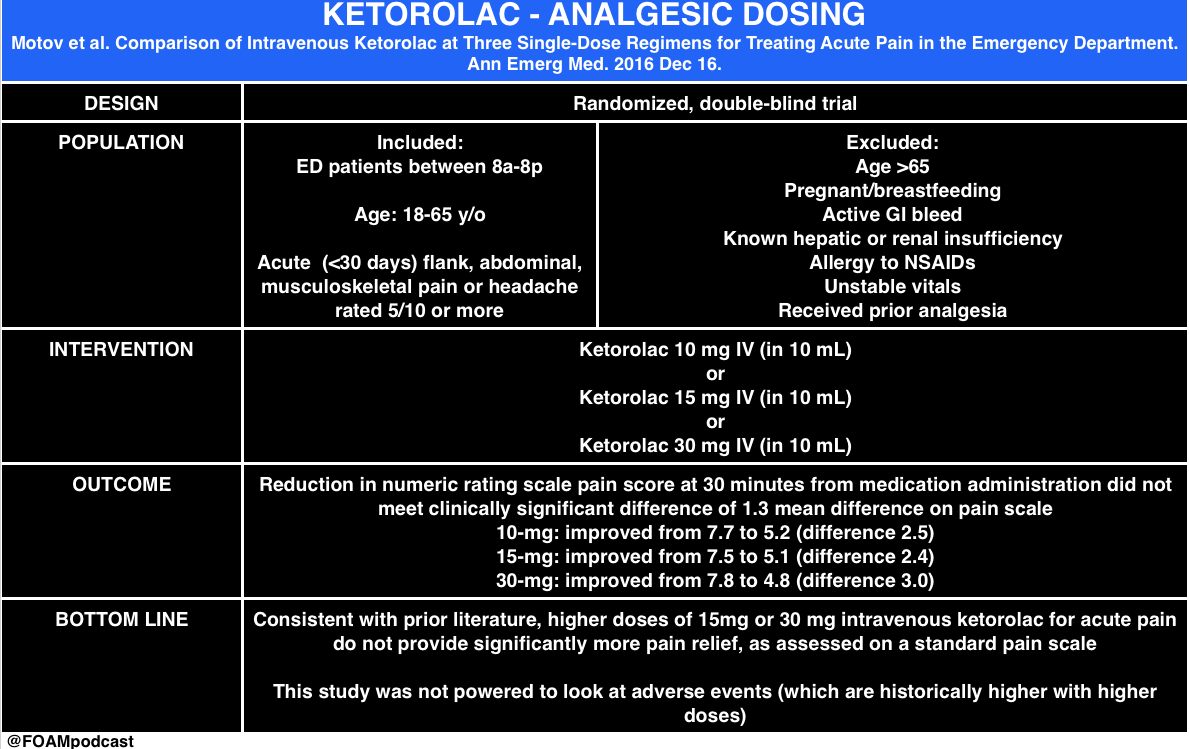 Pulmonary Embolism in Syncope 
Prandoni et al. Prevalence of Pulmonary Embolism among Patients Hospitalized for Syncope.   N Engl J Med 2016; 375:1524-1531. This trial is probably one of the most over-reacted to trials of 2016.  News outlets, both by lay media and for health professionals overstated the claims of this trial.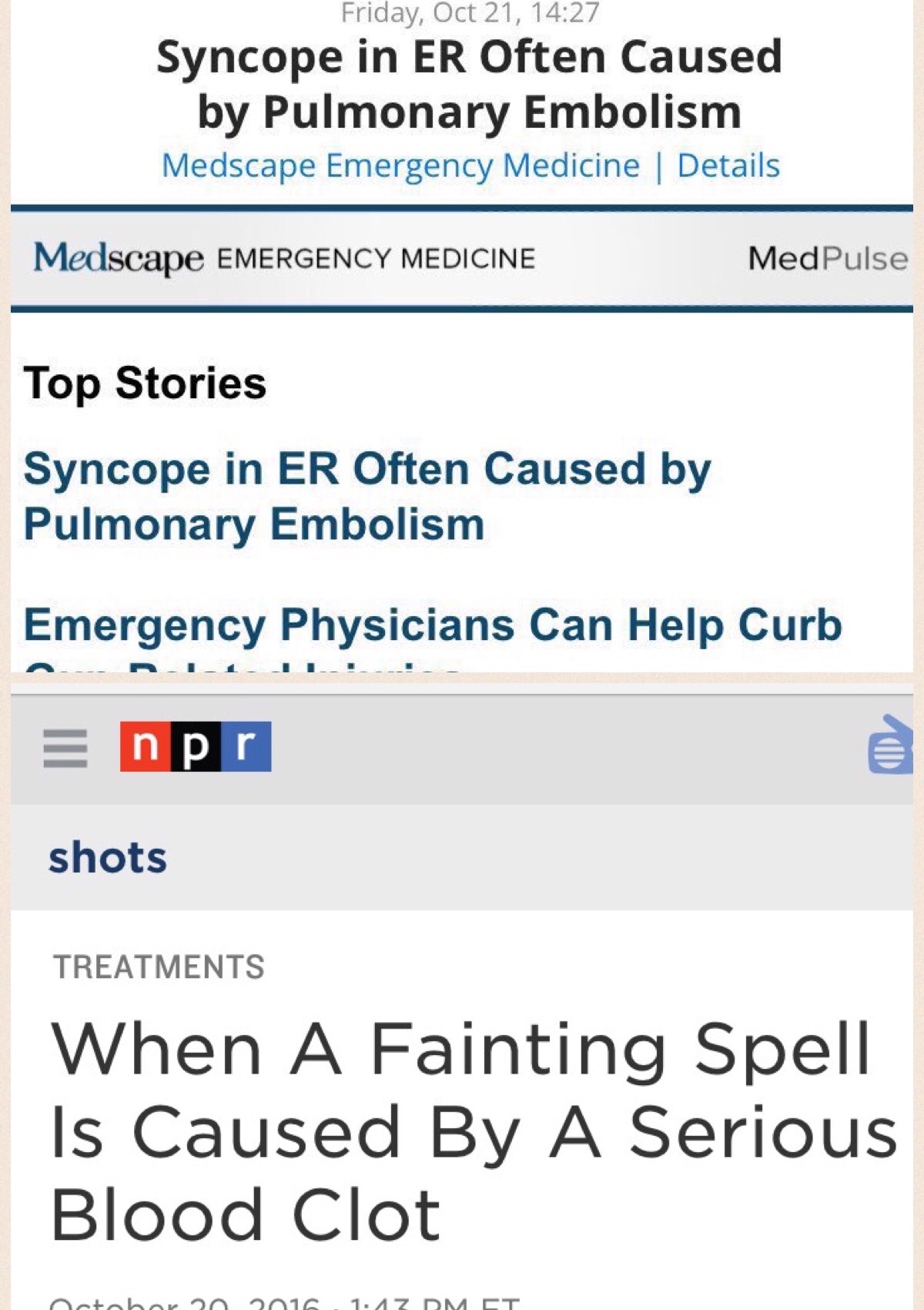 What the trial actually did…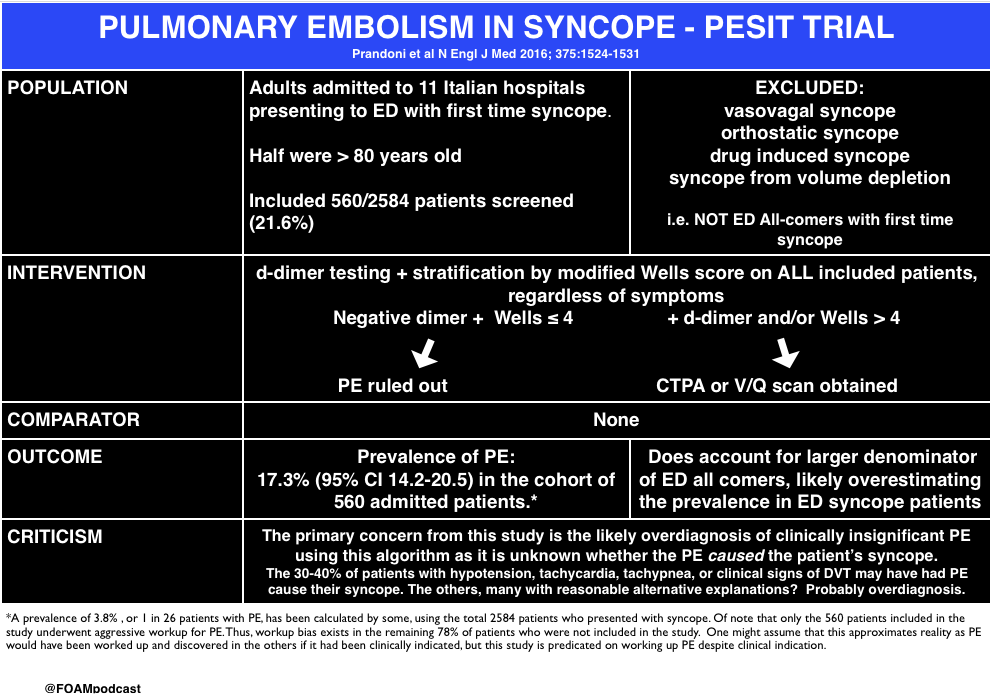 Out of Hospital Cardiac Arrest Prognostication
Jabre et al. Early Identification of Patients With Out-of-Hospital Cardiac Arrest With No Chance of Survival and Consideration for Organ Donation.   Intern Med. 2016 Dec 6;165(11):770-778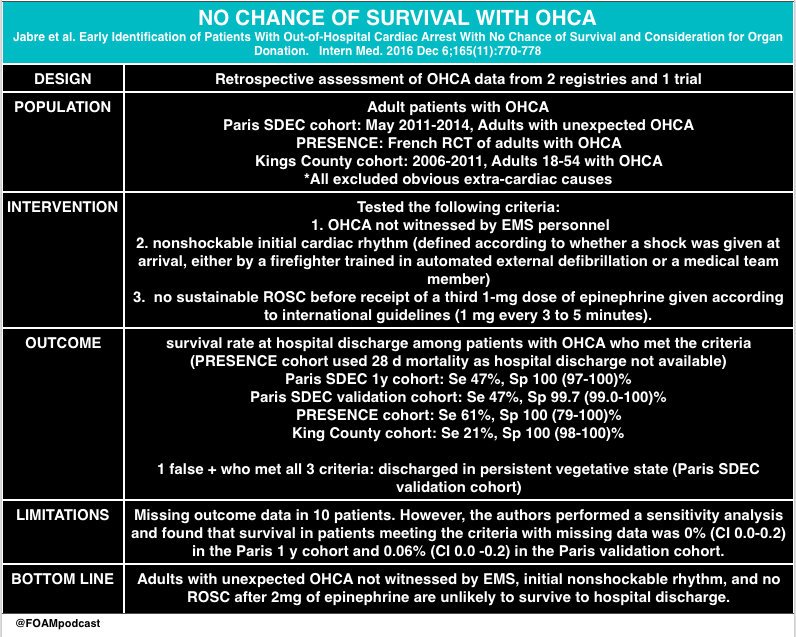 ALTE (Apparent Life Threatening Event) is out, replaced with a new definition and classification, BRUE (Brief Resolved Unexplained Event).
Tieder JS, Bonkowsky JL, Etzel RA, Franklin WH, Gremse DA, Herman B et al. Subcommittee on Apparent Life Threatening Events. Brief Resolved Unexplained Events (Formerly Apparent Life-Threatening Events) and Evaluation of Lower-Risk Infants: Executive Summary.  Pediatrics. 2016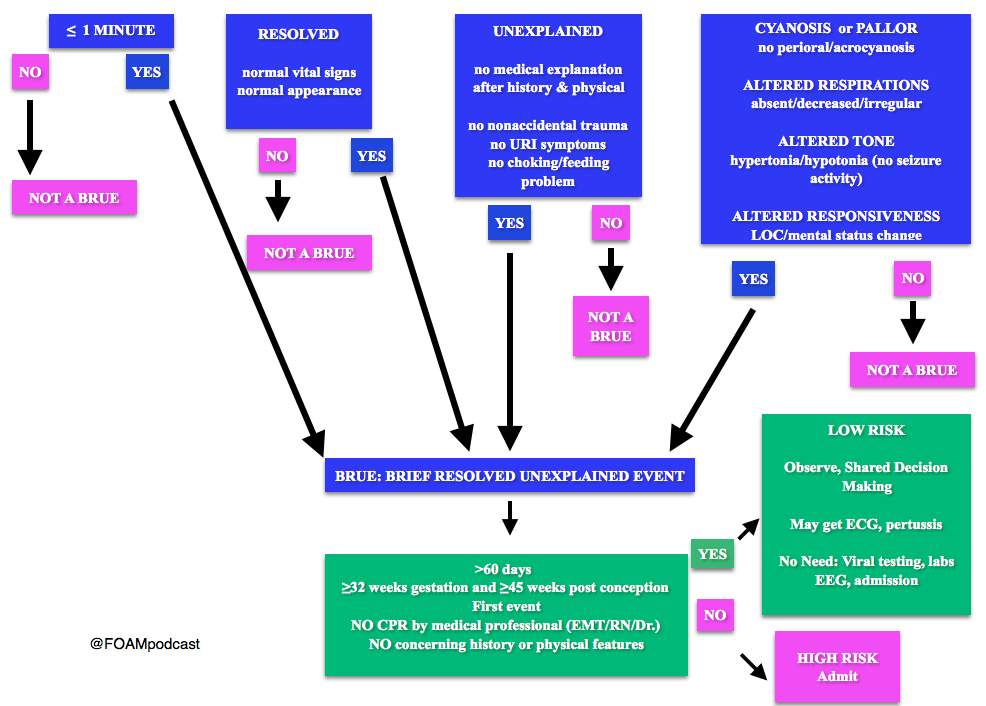 References:
Churpek MM, Snyder A, Han X et al. qSOFA, SIRS, and Early Warning Scores for Detecting Clinical Deterioration in Infected Patients Outside the ICU. Am J Respir Crit Care Med. 2016. [article]
Brabrand M, Havshøj U, Graham CA. Validation of the qSOFA score for identification of septic patients: A retrospective study. European Journal of Internal Medicine. 36:e35-e36. 2016. [article]