We cover Free Open Access Medical Education (FOAM) on Contrast-Induced Nephropathy (CIN).  A large retrospective study by Hinson and colleagues in Annals of Emergency Medicine, reignited enthusiasm in the FOAM world about the questionable entity (and clinical significance) of CIN. The data on CIN is somewhat difficult to parse out as the data consists entirely of retrospective cohort and case-control studies. The highest risk of CIN seems to come from large volume contrast procedures such as percutaneous coronary angiography. Studies looking at the risk of CIN after contrast-enhanced CT scan have been less conclusive.
The American College of Radiology (ACR) Manual on Contrast Induced Nephropathy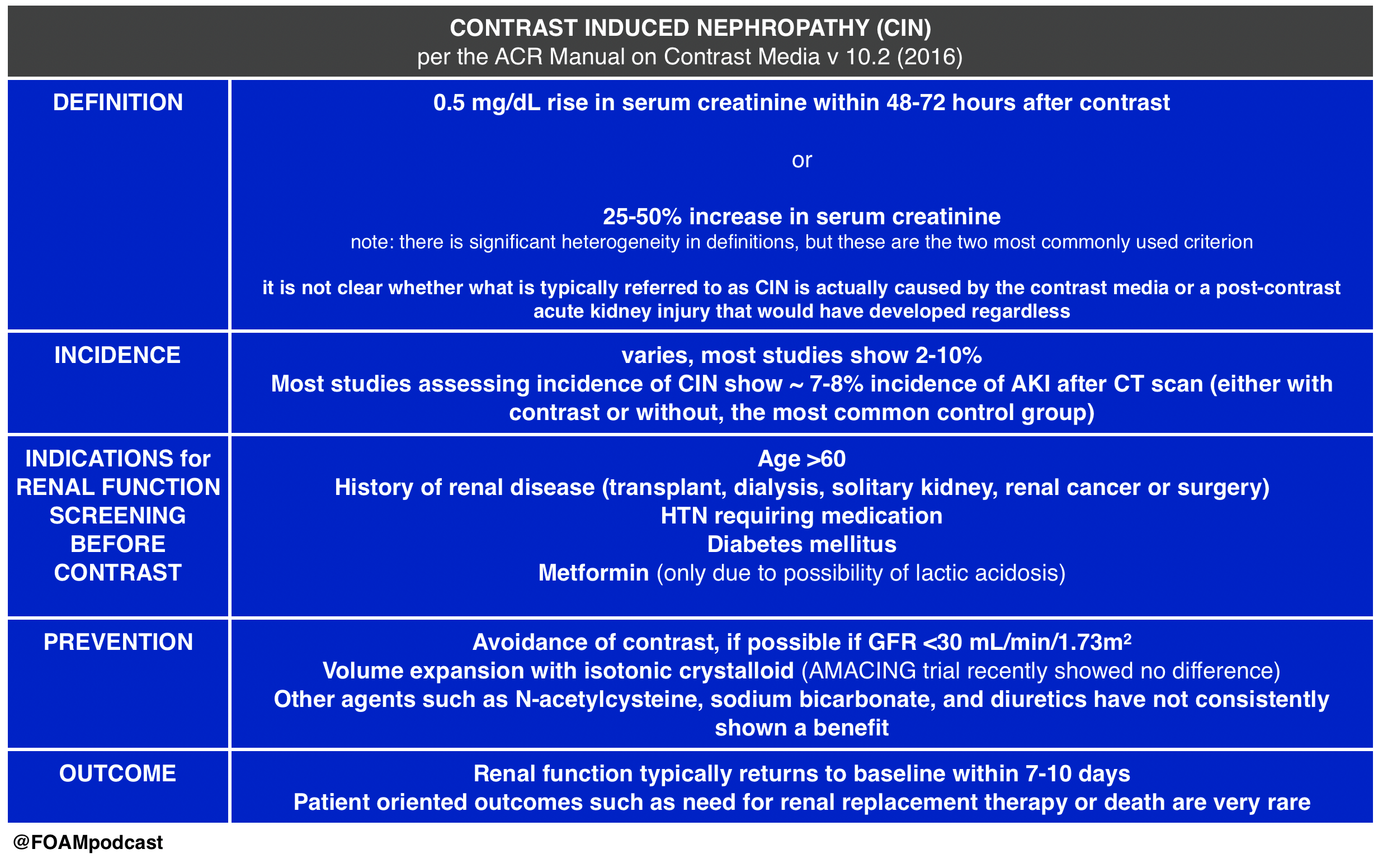 This Emergency Medicine Literature of Note post covers the AMACING  trial, which looks at intravenous fluid administration (0.9% NaCl) versus usual care in patients "at risk" for CIN undergoing contrast-enhanced CT scan.   The study found a difference of -0.1% (95% CI -2.25 to 2.06), which was below the non-inferiority margin. Prior literature shows similar results, with no clear-cut efficacy from prevention strategies for CIN.
This post by Dr. Joel Topf (nephrologist @kidneyboy) on the Precious Bodily Fluids blog discusses a nephrologist's take on CIN.
EM topics post on fluids in CIN.
Core Content
We then delve into core content on genitourinary trauma using Rosen's Chapter 47 and Tintinalli's Chapter265 as a guide.
 Rosh Review Emergency Board Review Questions
An 18-year-old man involved in a motor vehicle collision is transferred from a rural facility after being diagnosed with a pelvic fracture. After your initial assessment and stabilization, a secondary survey is performed. On examination, he is noted to have blood at his urethral meatus as well as a scrotal hematoma. Which of the following is the most appropriate next step?
A. Retrograde cystogram
B. Retrograde urethrogram
C. Suprapubic catheter placement
D. Transurethral urinary catheter placement
B. The patient should undergo a retrograde urethrogram to rule out an underlying urethral injury. In patients with a pelvic fracture and signs of urethral injury, a retrograde urethrogram should be performed in the supine position prior to urethral instrumentation. If a partial disruption is identified, one attempt to place a 12- or 14-French Foley or coude catheter can be made. If unsuccessful or a complete tear is diagnosed, then a suprapubic catheter will need to be placed. Pelvic fractures with displacement of the pubic symphysis can cause laceration or avulsion of the prostatic urethra. The three classic findings of urethral injury include blood at the urethral meatus, a high-riding prostate and a scrotal or perineal hematoma. Failure to recognize a urethral injury can lead to urethral stricture formation and urinary incontinence.
Urethral manipulation can convert a partial urethral tear to a complete tear, therefore transurethral urinary catheter placement (D) should be avoided until urethral integrity is known. Suprapubic catheter placement (C) may ultimately be necessary if complete urethral injury is diagnosed, however in this case a retrograde urethrogram should be performed prior to proceeding with suprapubic placement. The patient may also have a bladder injury and may require a retrograde cystogram (A), however urethral integrity must be evaluated by a retrograde urethrogram prior to performing a cystogram
A 29-year-old man presents to the ED after a MVC. A pelvic fracture is identified on radiography. His vital signs are stable. The decision is made to place a Foley catheter, but blood is noted at the urethral meatus. Which of the following is an appropriate next step?
A. Consult a urologist
B. Obtain a CT scan to evaluate for urethral injury
C. Perform a retrograde urethrogram
D. Place a condom catheter
C. Perform a retrograde urethrogram. In general, a Foley catheter should not be placed in the setting of suspected urethral injury. In such cases, it is recommended that further testing be performed to evaluate for urethral injury. A retrograde urethrogram should be performed. If there is no contrast extravasation, then a Foley catheter can safely be inserted.  A urologist should be consulted (A) if a urethral injury is confirmed by the retrograde urethrogram. A CT scan (B) is a poor study to identify urethral injuries. A condom catheter (D) does not allow for accurate urine output measurements and may delay identification of a urethral injury.
References:
Hinson JS, Ehmann MR, Fine DM, et al. Risk of Acute Kidney Injury After Intravenous Contrast Media Administration. Ann Emerg Med. 2017
ACR Manual on Contrast Media.  v10.2. 2016. p33-40
"Genitourinary System."  Rosen's Emergency Medicine, 8th ed. Chapter 47, 479-499.e1
"Genitourinary Trauma." Tintinalli's Emergency Medicine: A Comprehensive Review.  8th ed.  Chapter 265