The Free Open Access Medical Education (FOAM)
In the United States, electrocardiograms (ECGs) performed in triage must often be signed by an attending emergency physician shortly after they are performed.  This creates a significant number of interruptions which are not only inconvenient but also distracting for physicians taking care of patients.  A recent study in Academic Emergency Medicine by Hughes and colleagues looks at the potential clinical relevance of having emergency physicians sign ECGs read "normal" by the computer software.  FOAM reviews of this article can be found here: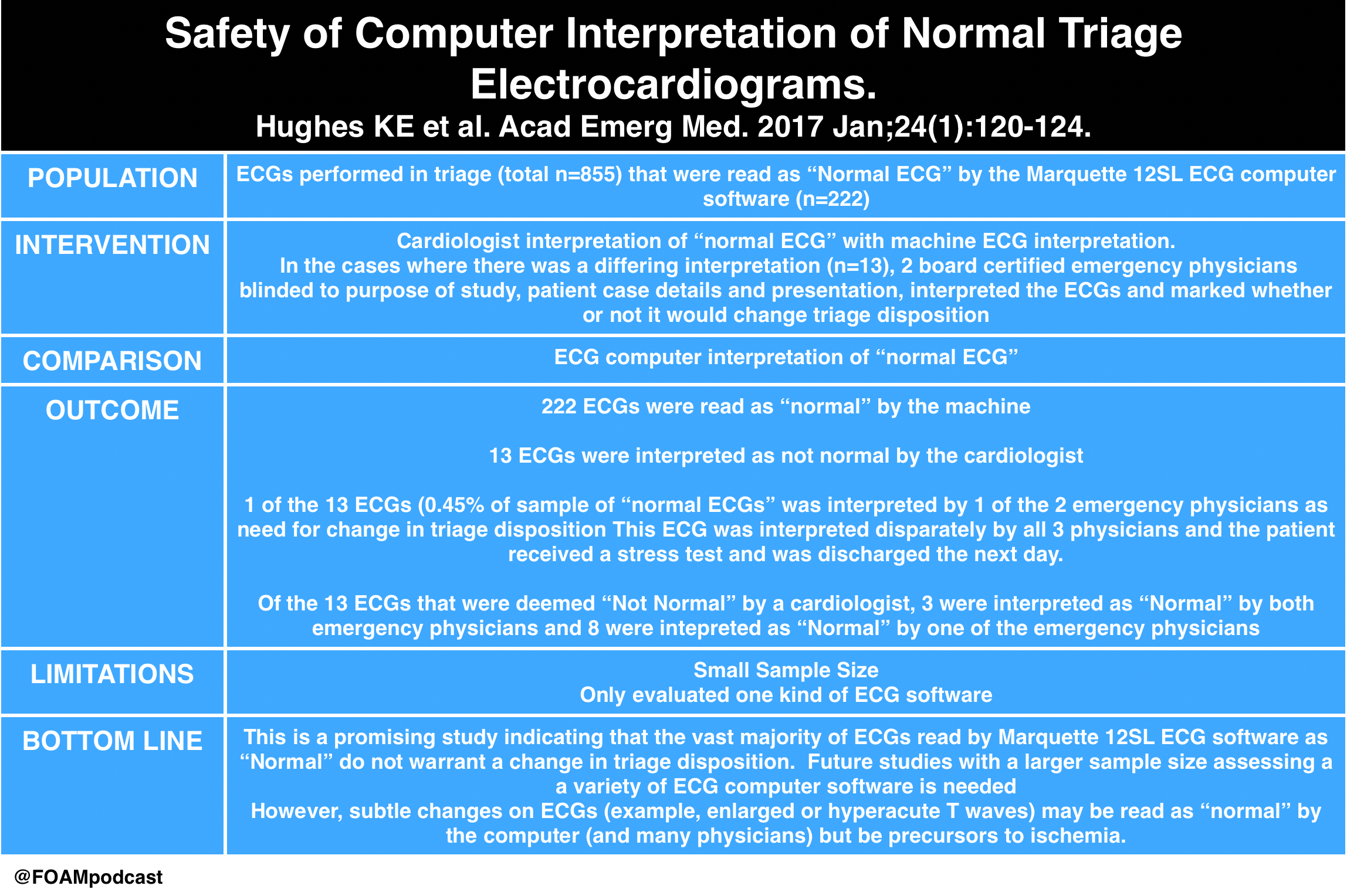 The Core Content
Rosen's Emergency Medicine (8th ed), Chapter 78 and the 2013 AHA Guidelines
ST Elevation MI (STEMI) 
This is the time-dependent infarction with current goals to obtain reperfusion within 90 minutes (or 60 minutes at some hospitals).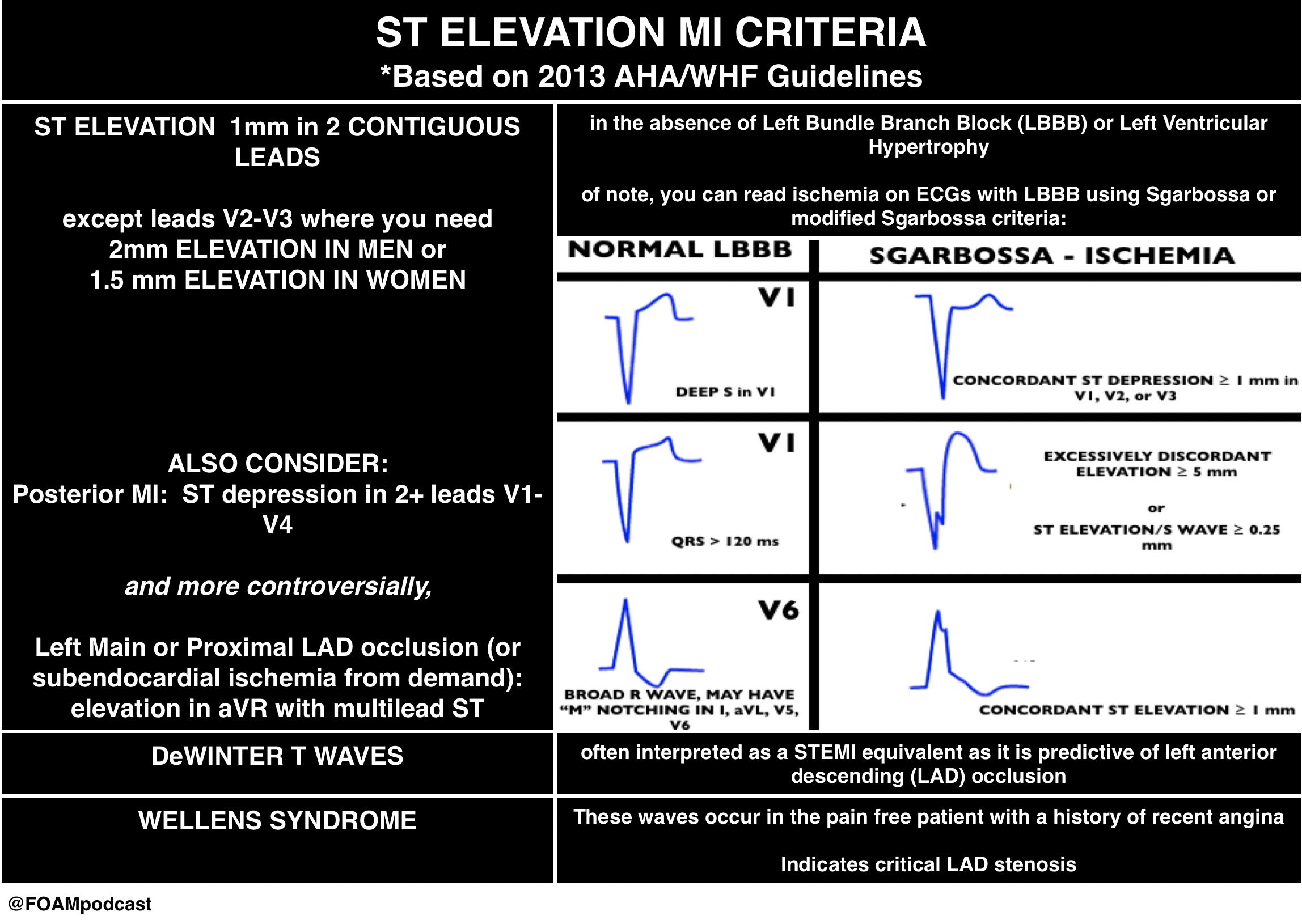 However, there are more kinds of ischemia than just STEMI and many of these can be subtle. Close examination of even normal ECGs is necessary.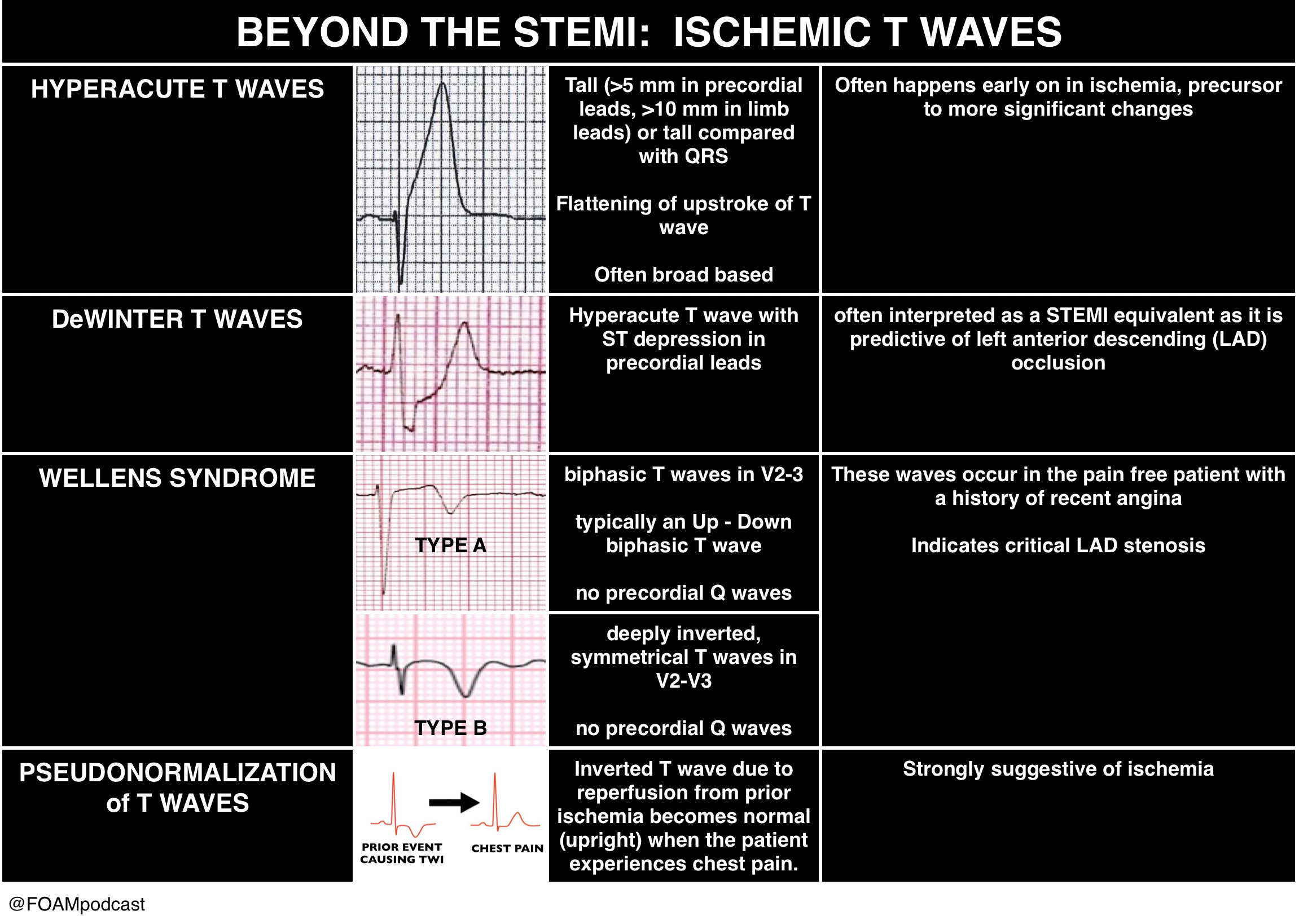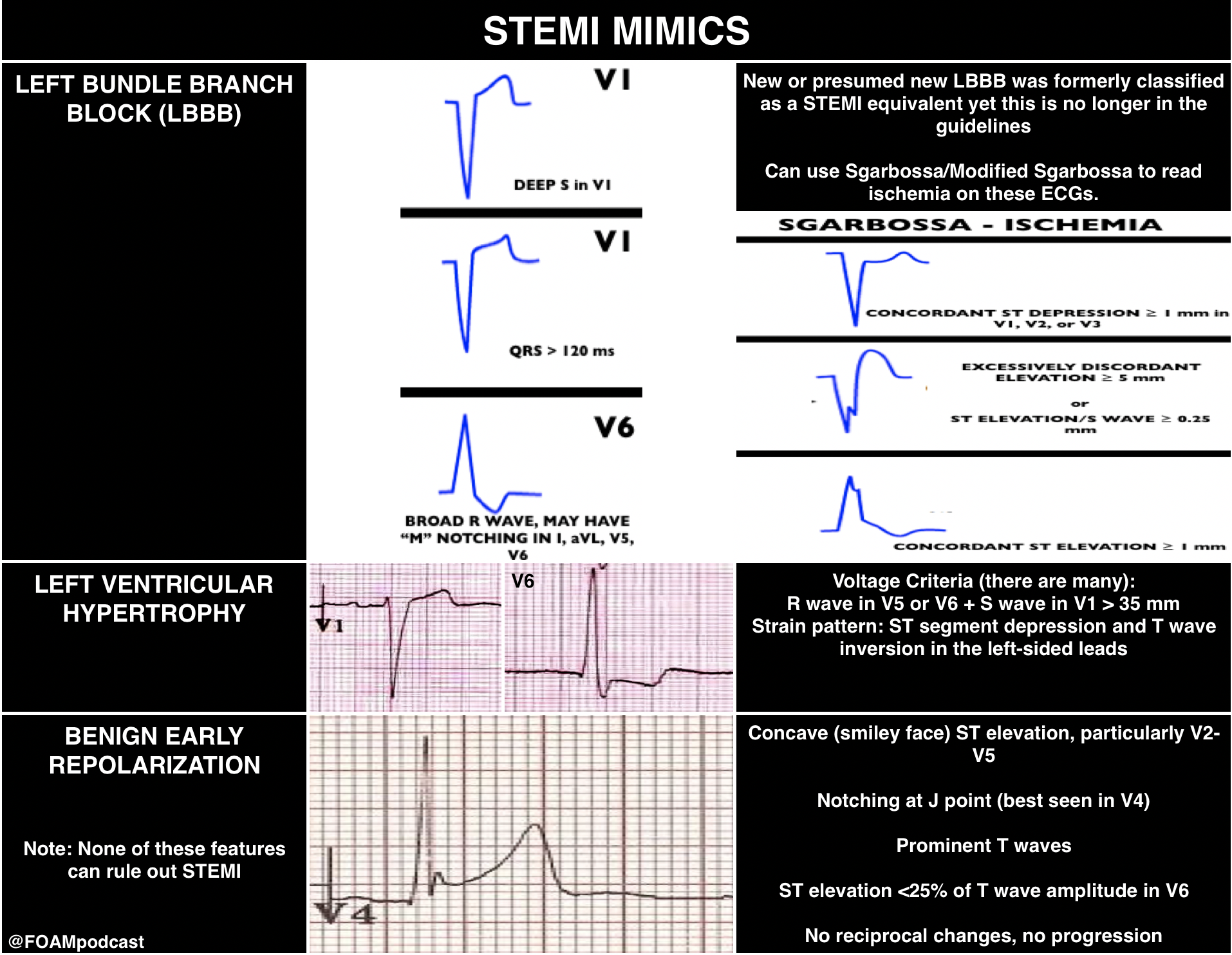 Rosh Review Emergency Board Review Questions
A 45-year-old man presents with chest pain. Which of the following features most strongly predicts acute coronary syndrome as the cause of his chest pain
A. History of diabetes mellitus, hypertension, and tobacco use
B. Pleuritic pain
C. Pressure-like pain
D. Radiation to the right arm
Answer
D.
Chest pain is one of the most common presenting complaints to emergency departments. The causes of chest pain are varied and range from benign (e.g. muscle strain, costochondritis, pleurisy) to life-threatening (e.g. acute coronary syndrome, aortic dissection, pulmonary embolism). The emergency provider's job is to carefully assess the patient with chest pain and rule out any life-threatening etiologies. As such, acute coronary syndrome must be considered on the differential of every patient presenting with chest pain. Acute coronary syndrome most commonly occurs when an atherosclerotic plaque is disrupted or eroded, resulting in platelet aggregation and thrombus formation at the site, resulting in diminished or absent flow within the affected vessel. Historical features are extremely important in helping categorize patients as low, moderate, or high risk for acute coronary syndrome, and performing a detailed history regarding chest pain complaints is critical. Low risk features include pleuritic, positional, reproducible, and sharp or stabbing pain. In addition, non-exertional pain and pain localized to a small inframammary area have a low likelihood of being cardiac in etiology. High risk features include chest pressure (positive likelihood ratio [LR+] 1.3), pain similar to prior cardiac pain (LR+ 1.8), and associated vomiting or diaphoresis (LR+ 1.9 and 2.0, respectively). The highest risk features include radiation to the right arm or shoulder (LR+ 4.7), left arm (LR+ 2.3), or both arms or shoulders (LR+ 4.1), and exertional chest pain (LR+ 2.4). Of the above choices, radiation to the right arm is the strongest predictor of a cardiac etiology of chest pain.
History of diabetes, hypertension, and tobacco use (A) are traditional cardiac risk factors that predict the lifetime risk of developing coronary artery disease. However, these risks factors are less helpful than historical features in predicting whether an acute presentation of chest pain is due to acute coronary syndrome. Pleuritic pain (B) is not a strong predictor of acute coronary syndrome. Pressure-like pain (C) is a high-risk feature but is less predictive or acute coronary syndrome than pain that radiates to the right arm.
References:
Hughes KE, Lewis SM, Katz L, Jones J. Safety of Computer Interpretation of Normal Triage ECGs. Acad Emerg Med. 2016
O'gara PT, Kushner FG, Ascheim DD, et al. 2013 ACCF/AHA guideline for the management of ST-elevation myocardial infarction: a report of the American College of Cardiology Foundation/American Heart Association Task Force on Practice Guidelines. J Am Coll Cardiol. 2013;61(4):e78-140.