Did you think blood pressure cuff readings were accurate? Guess again.https://t.co/vQc6BV2UGD @JACCJournals pic.twitter.com/f36ppi3Hrl

— Eric Topol (@EricTopol) July 25, 2017
Picone et al published a meta-analysis in the Journal of the American College of Cardiology discussing the accuracy of cuff blood pressures.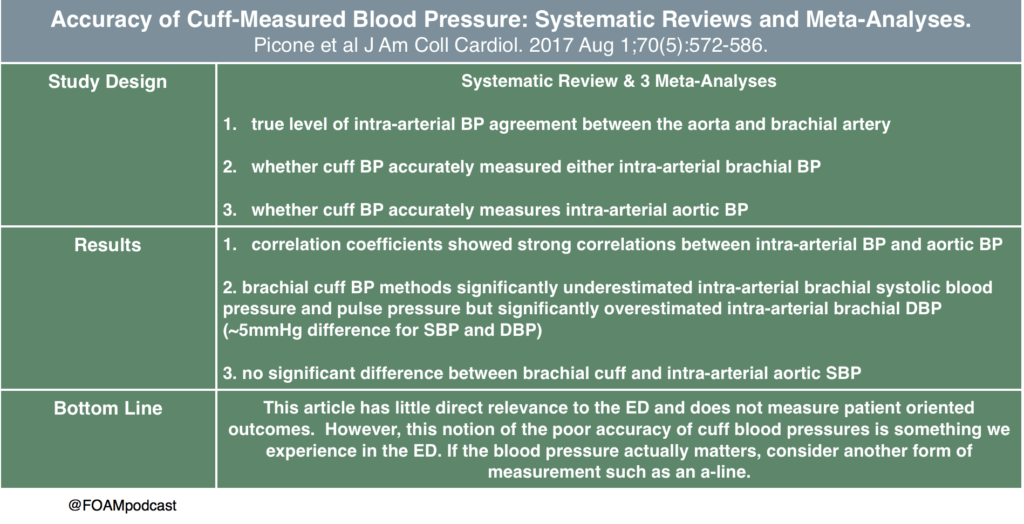 We cover core content on hypertension using the ACEP clinical policy on hypertension, Rosen's (9th ed) Chapter 74 "Hypertension," and Tintinalli (8th ed),  Chapter  57 "Systemic Hypertension" Chapter 59 "Aortic Dissection and Related Aortic Syndromes" as guides. Check out this FOAM review of hypertension in the ED.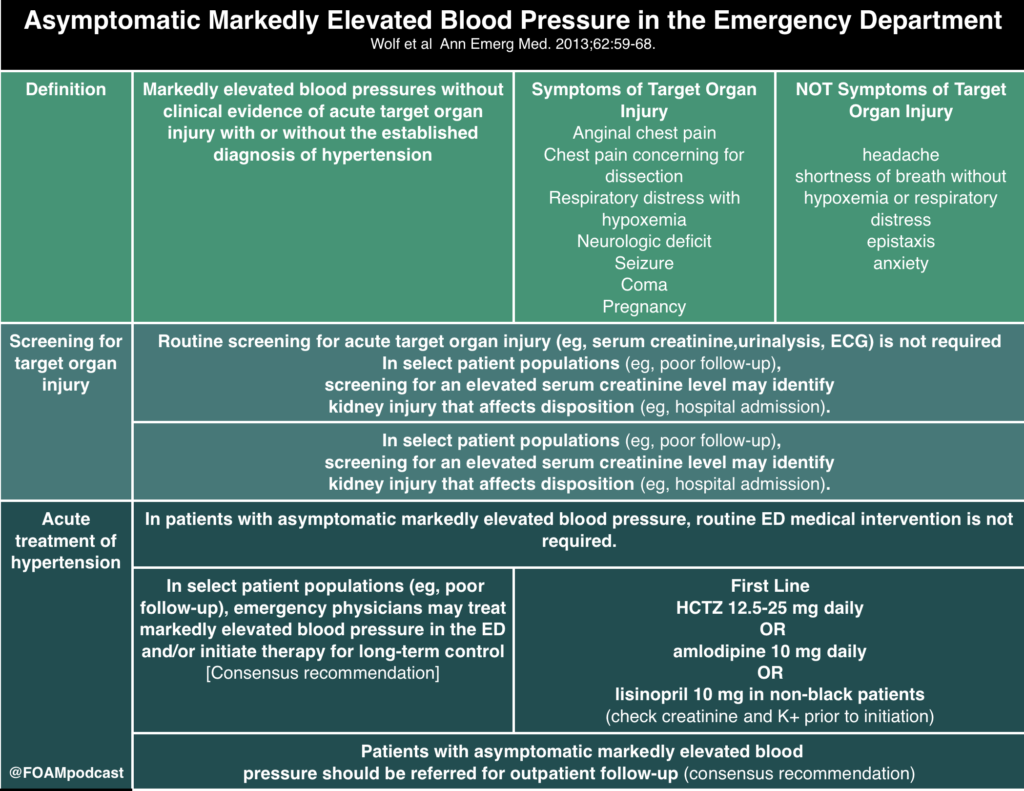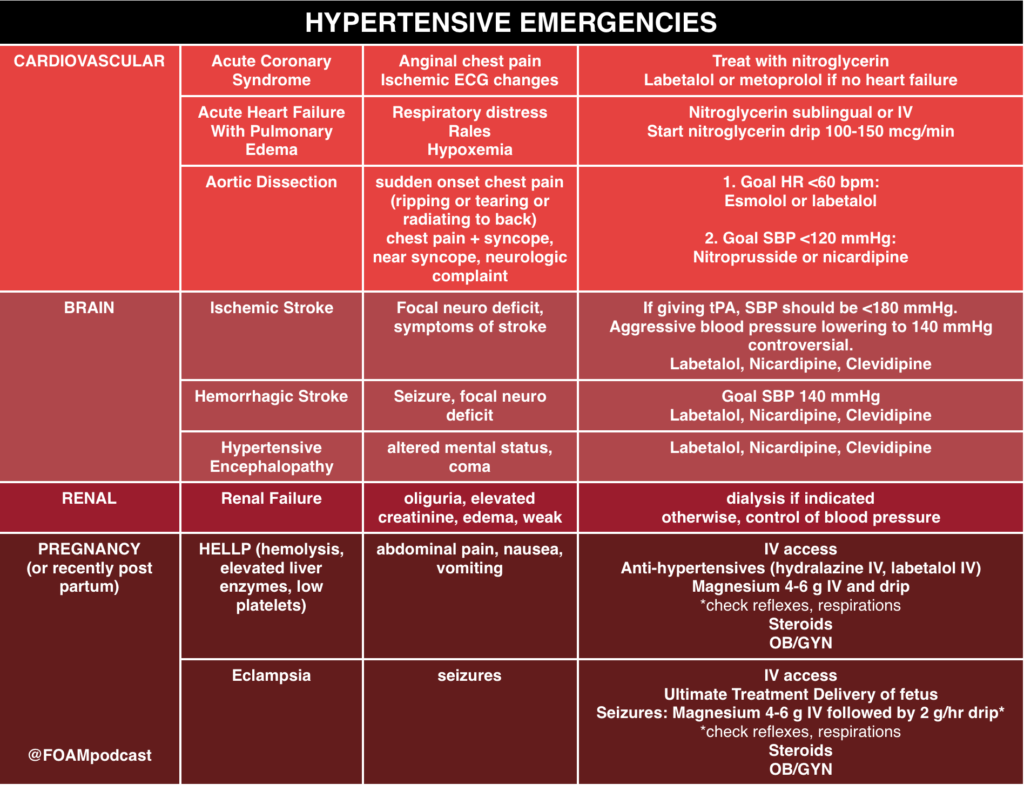 References:
Zampaglione B, Pascale C, Marchisio M, Cavallo-Perin P. Hypertensive urgencies and emergencies: prevalence and clinical presentation. Hypertension. 1996;27(1):144-147.
Chiang WK, Jamshahi B. Asymptomatic hypertension in the ED.Am J Emerg Med. 1998;16 (7):701-704.
Masood S, Austin PC, Atzema CL. A Population-Based Analysis of Outcomes in Patients With a Primary Diagnosis of Hypertension in the Emergency Department. Ann Emerg Med. 2016;68(3):258–267.e5.
Wolf SJ, Lo B, Shih RD, Smith MD, Fesmire FM. Clinical policy: Critical issues in the evaluation and management of adult patients in the emergency department with asymptomatic elevated blood pressure. Ann Emerg Med 2013;62(1):59–68.
The Seventh Report of the Joint National Committee on Prevention, Detection, Evaluation, and Treatment of High Blood Pressure. National High Blood Pressure Education Program.  Bethesda (MD): National Heart, Lung, and Blood Institute (US); 2004 Aug. Report No.: 04-5230
Heath I. Hypertensive Urgency — Is This a Useful Diagnosis ? JAMA Intern Med 2016;8(1):13–4.
Patel KK, Young L, Howell EH, et al. Characteristics and Outcomes of Patients Presenting With Hypertensive Urgency in the Office Setting. JAMA Intern Med.  2016;176(7):981–8.
Nakprasert P, Musikatavorn K, Rojanasarntikul D, Narajeenron K, Puttaphaisan P, Lumlertgul S. Effect of predischarge blood pressure on follow-up outcomes in patients with severe hypertension in the ED. Am J Emerg Med. 2016;34(5):834–9.
James PA, Oparil S, Carter BL et al.  2014 Evidence-Based Guideline for the Management of High Blood Pressure in Adults:  Report From the Panel Members Appointed to the Eighth Joint National Committee (JNC 8).  JAMA. 2014;311(5):507-520.
Ogedegbe G, Shah NR, Phillips C et al. Comparative Effectiveness of Angiotensin-Converting Enzyme Inhibitor-Based Treatment on Cardiovascular Outcomes in Hypertensive Blacks Versus Whites. Journal of the American College of Cardiology. 66(11):1224-1233. 2015.
Flack JM, Sica DA, Bakris G et al. Management of High Blood Pressure in Blacks: An Update of the International Society on Hypertension in Blacks Consensus Statement. Hypertension. 56(5):780-800. 2010.