The Free Open Access Medical Education (FOAM) world is often obsessed with magnesium. There are two situations that get unequivocal, high recommendations to give intravenous (IV) magnesium – eclampsia and polymorphic ventricular tachycardia. In this show we address the use of magnesium for various applications.
Magnesium for Acute Atrial Fibrillation with Rapid Ventricular Response (RVR)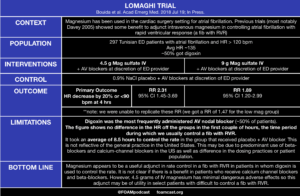 Bouida et al. LOw dose MAGnesium sulfate versus HIgh dose in the early management of rapid atrial fibrillation: randomised controlled double blind study. Acad Emerg Med. 2018 Jul 19.
Ho KM, Sheridan DJ, Paterson T. Use of intravenous magnesium to treat acute onset atrial fibrillation: a meta-analysis. Heart. 2007;93(11):1433-40.
Davey MJ, Teubner D. A randomized controlled trial of magnesium sulfate, in addition to usual care, for rate control in atrial fibrillation. Ann Emerg Med. 2005;45(4):347-53.
Magnesium for Migraine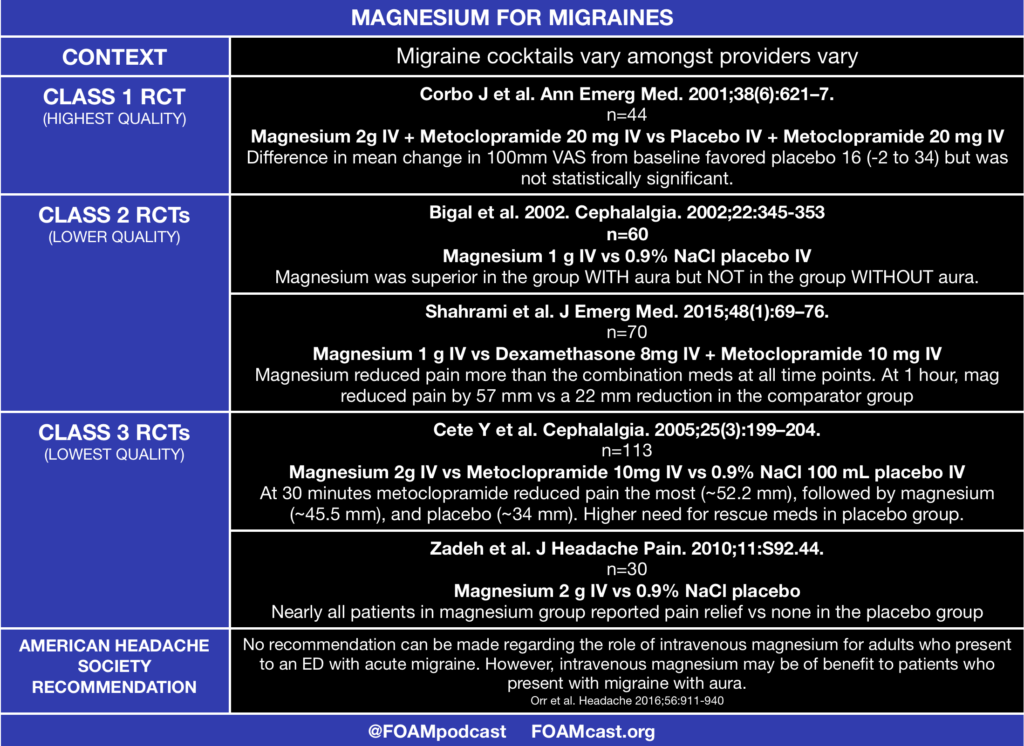 Corbo J, Esses D, Bijur PE, Iannaccone R, Gallagher EJ. Randomized clinical trial of intravenous magnesium sulfate as an adjunctive medication for emergency department treatment of migraine headache. Ann Emerg Med. 2001;38(6):621–7.
Bigal ME, Bordini CA, Tepper SJ, Speciali JG. Intravenous magnesium sulphate in the acute treatment of migraine without aura and migraine with aura. A randomized, double-blind, placebo-controlled study. Cephalalgia. 2002;22(5):345-53.
1Cete Y, Dora B, Ertan C, Ozdemir C, Oktay C. A randomized prospective placebo-controlled study of intravenous magnesium sulphate vs. metoclopramide in the management of acute migraine attacks in the Emergency Department. Cephalalgia. 2005;25(3):199–204.
Shahrami A, Assarzadegan F, Hatamabadi HR, Asgarzadeh M, Sarehbandi B, Asgarzadeh S. Comparison of therapeutic effects of magnesium sulfate vs. dexamethasone/metoclopramide on alleviating acute migraine headache. J Emerg Med. 2015;48(1):69–76.
Orr SL, Friedman BW, Christie S, Minen MT, Bamford C, Kelley NE, et al. Management of Adults with Acute Migraine in the Emergency Department: The American Headache Society Evidence Assessment of Parenteral Pharmacotherapies. Headache. 2016;56(6):911–40.
Magnesium for Acute Asthma Exacerbation
Griffiths B, Kew KM. Intravenous magnesium sulfate for treating children with acute asthma in the emergency department. Cochrane Database Syst Rev. 2016;4:CD011050.
Kew KM, Kirtchuk L, Michell CI. Intravenous magnesium sulfate for treating adults with acute asthma in the emergency department. Cochrane Database Syst Rev. 2014;(5):CD010909.