(ITUNES OR LISTEN HERE)
FOAMcast is bringing you pearls from conferences we attend and, first up, the American College of Emergency Physicians annual meeting, ACEP14.  Weekend review, Day 1 review.
Scientific Assembly Day 2 Pearls
(there's too much to choose from, so follow #ACEP14)
Simple Complaints in Patients with HIV – Dr. John Perkins
HIV is a risk factor for coronary artery disease (CAD) and these patients are prone to thrombotic complications [Boccara et al]
Dr. Amal Mattu has really championed this point, as in this videocast
Resuscitation Pearls – Dr. Scott Weingart 
End of Life/Palliative Care – Dr. James Adams
Hospice and palliative care are INTENSIVE. Listen to Dr. Ashley Shreves on the EMCrit podcast if you're not convinced of this (actually, listen regardless, it's worth it).
A Do Not Resuscitate (DNR) order only speaks to whether or not a patient wants CPR if they die.  No more, no less.  But, for more on this, check out this blog post.
In general, physicians don't broach end-of-life topics with patients. Dr. Adams quoted a statistic "Approximately 50% of doctors don't know their patient's resuscitation wishes."  The consensus in the room was that it really doesn't take that much time to initiate these conversations but brief questions asking about a patient's wishes, checking in to see if they have sufficient resources, or.  (Lauren's take on the topic).
ACEP's New Additions to Choosing Wisely
The cliff notes, courtesy of Dr. Seth Trueger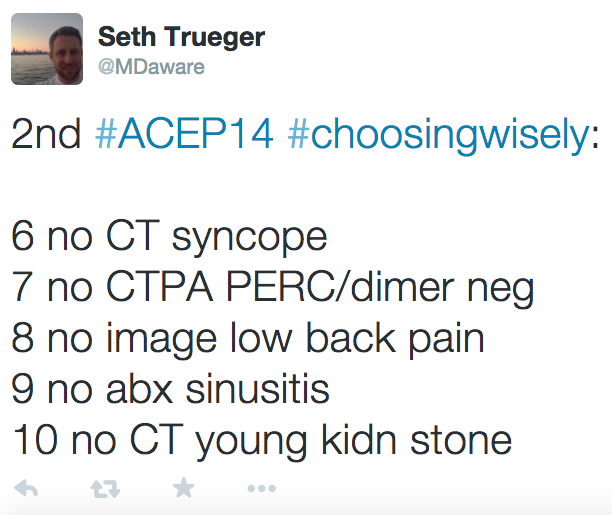 Also, the first 5 from 2013: