Dr. Salim Rezzaie of RebelEM wrote a blog post on HUGS – Haloperidol for Gastroparesis.  This study had significant methodologic limitations but provides some interesting insight into a practice that many providers have adopted – using haloperidol for gastroparesis. A tiny RCT by Roldan and colleagues also looked at this practice and found promising results, although the study was very small.  Haloperidol has also been used in cannabinoid hyperemesis but literature on this is limited to case reports/series.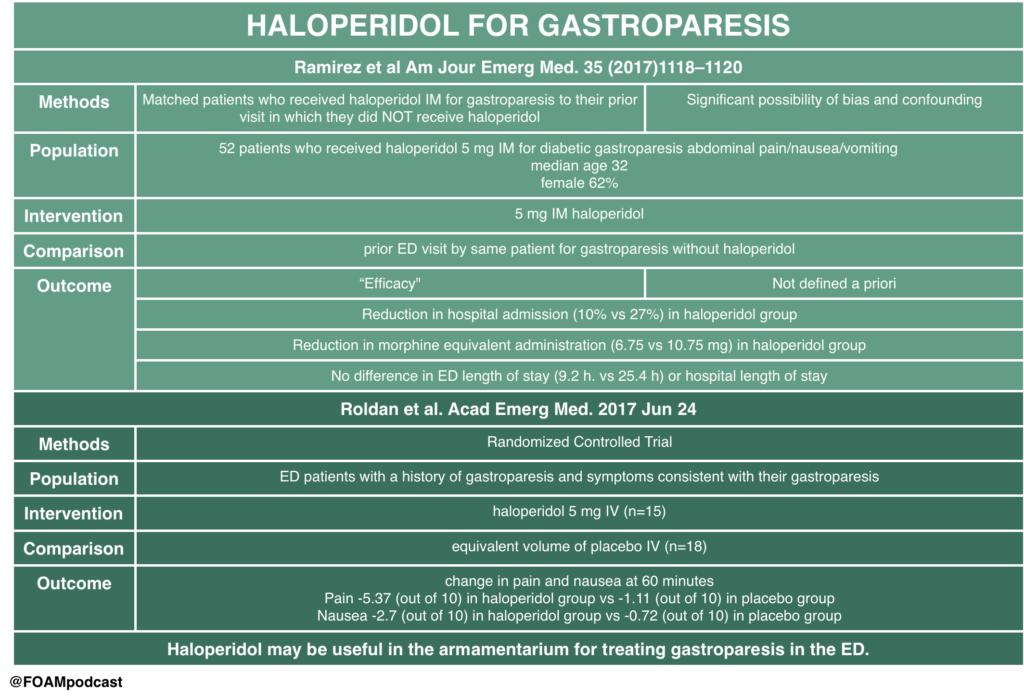 Core Content
We review biliary colic, cholecystitis, and cholangitis using Tintinalli (8th ed) Chapter 79 and Rosen's Emergency Medicine (9th ed) Chapter 80 as guides.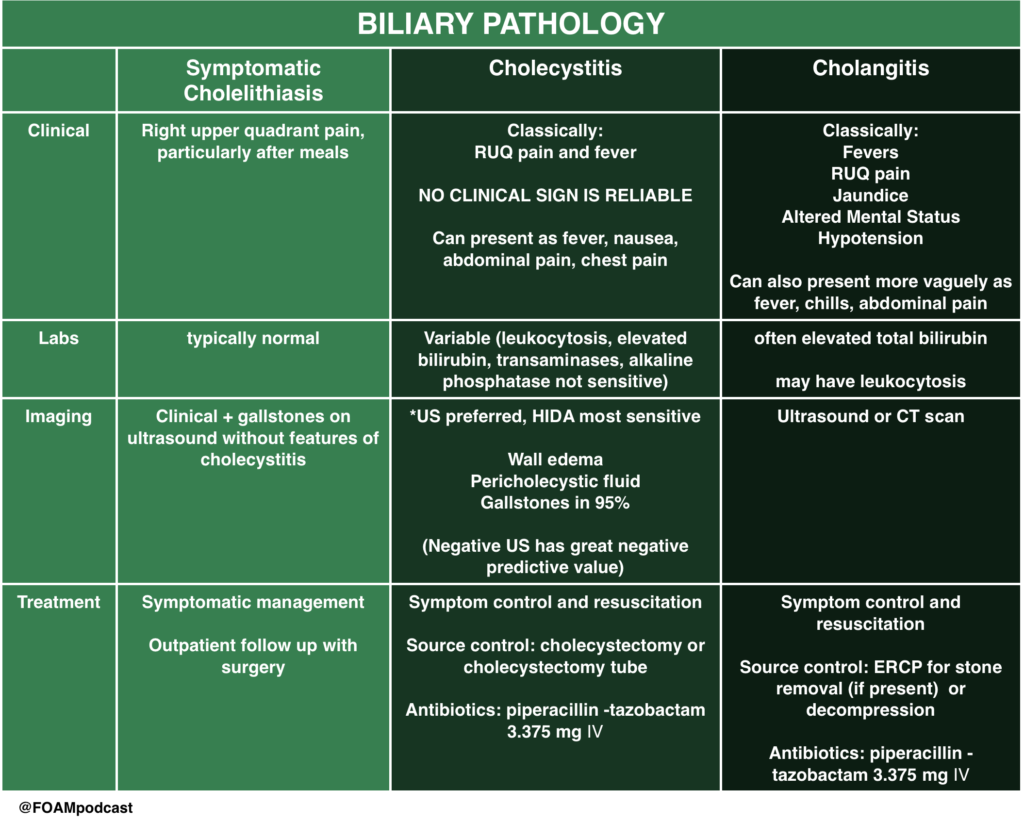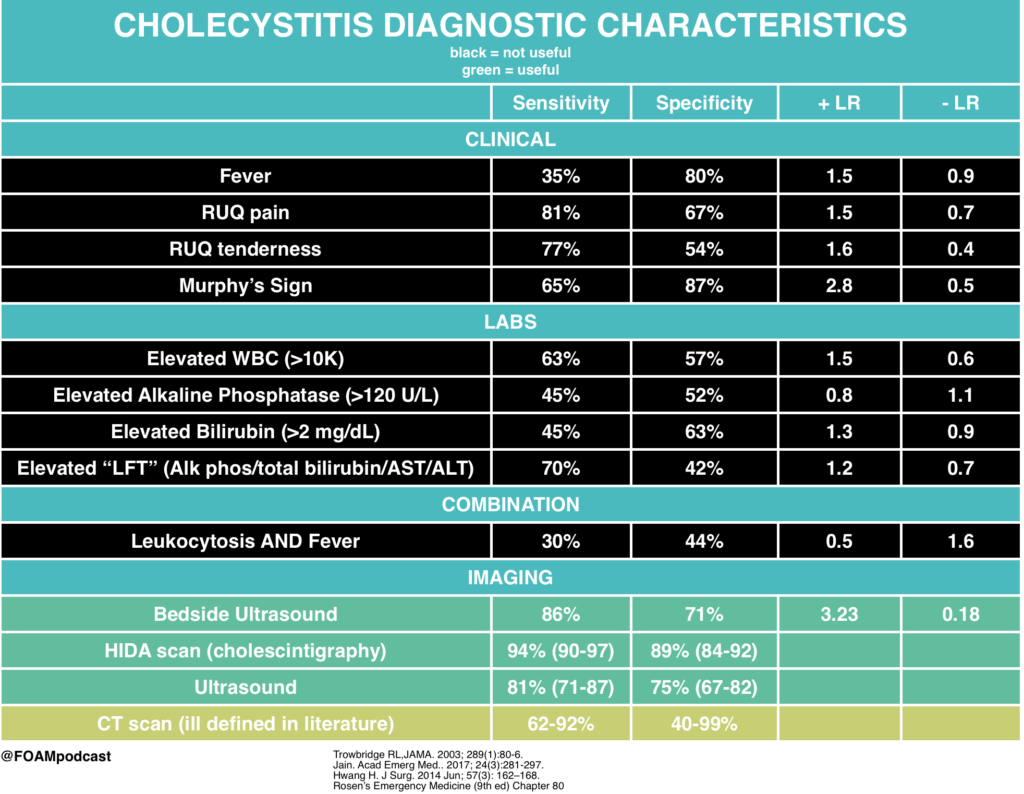 Rosh Review Emergency Board Review Questions
A 60-year-old woman presents with two days of right upper quadrant abdominal pain constant in nature and associated with subjective fever, nausea, and vomiting. Vital signs are temperature of 38.1°C, heart rate 87, blood pressure 140/80 mm Hg, respiratory rate 14, and oxygen saturation of 99% on room air. Her abdomen is soft with right upper quadrant tenderness and a positive Murphy's sign. Which of the following tests is most sensitive and specific in diagnosing this patient's condition?
A. Computed tomography scan with intravenous contrast
B. Hepatobiliary iminodiacetic acid (HIDA) scan
C. MRI with gadolinium
D. Ultrasound
Answer
This patient has suspected acute cholecystitis and requires an imaging study for confirmation. Hepatobiliary iminodiacetic acid (HIDA) scanning is considered the most sensitive and specific test for diagnosing acute cholecystitis. IDA is administered intravenously, taken up by hepatocytes, and excreted into the bile canaliculi. Failure to obtain an outline of the gallbladder within one hour proves cystic duct obstruction and, in the appropriate clinical setting, confirms the diagnosis of acute cholecystitis. Visualization of the gallbladder and common duct within one hour has a high negative predictive value. A HIDA scan is usually obtained when the ultrasound study is equivocal.
Computed tomography scan with intravenous contrast (A) can identify cholecystitis with a reported sensitivity of 92% and specificity of 99%. It is most useful in cases of emphysematous and hemorrhagic cholecystitis. MRI with gadolinium (C) provides similar diagnostic yield to CT scan. Ultrasound (D) is most useful in the ED setting because it is a quick, noninvasive test. Its sensitivity and specificity, however, are lower than a HIDA scan's for pathology-confirmed cholecystitis. Ultrasound findings and a clinical exam consistent with acute cholecystitis are highly predictive, and many such patients will undergo cholecystectomy without further diagnostic testing.
References: