(ITUNES OR LISTEN HERE)
The Free Open Access Medical Education (FOAM)
We cover two bits of FOAM, one from Emergency Medicine Literature of note on the use of meclizine for vertigo and an EMcrit episode on the HiNTs exam.
Emergency Medicine Literature of Note – Dr. Ryan Radecki – Treating what you believe is peripheral vertigo?  Using meclizine? So are most people.  But this is not an evidence based practice.  While meclizine is Rosen approved, Tintinalli recommends transdermal scopolamine as the first line treatment [1,2]. Following a recent recall of meclizine (oddly because iron bottles contained meclizine instead of iron), Dr. Radecki probes into why we use meclizine for vertigo.
Meclizine is an anti-histamine and has been thought to have anti-emetic properties.

A 1968 paper compared 16 anti-emetics/combinations and did NOT conclude that meclizine was the best. In fact, scopolamine and amphetamine performed best. Promethazine (phenergan) is also a good choice based on this paper [3].
EMcrit – Dr. Scott Weingart – The HiNTs exam has taken off, particularly in the FOAM world, as a means of disguising between central and peripheral causes of vertigo. In 2010, an EMcrit episode popularized this in the FOAM world. See this video demonstrating the HiNTs exam.
Head Impulse – rapid head rotation by the examiner with the subject's vision fixed on an object (i.e. examiner's nose). The examiner rapidly rotates the head towards midline and the patient's eyes should remain fixed on the target. 

Abnormal (loss of fixation on target and movement of eyes away from target followed by correct saccade as patient fixates on target) = peripheral (vestibulo-ocular reflex impaired)
Normal = central

Nystagmus 

Horizontal nystagmus with a unidirectional fast phase (away from affected side) = probably peripheral

Patients with horizontal nystagmus may have central pathology but may have direction-changing nystagmus (i.e. fast phase beating in one direction when looking to right and the opposite direction when looking left).

Vertical or nystagmus = central pathology

Test of Skew Patients should fixate on a target while the provider alternately covers each eye. As the cover is moved from one eye to the other, the uncovered eye must correct for the misalignment and will look up or down to focus back on the target. This slight correction is observed repeatedly as the cover is moved from one eye to the other.

Skew deviation/misalignment = probably central, often in posterior fossa abnormalities
No skew deviation= peripheral
INFARCT – Impulse Normal, Fast-phase Alternating nystagmus, and Refixation on Cover Test
Issues with HiNTs
Can only be performed on patients with continuous vertigo.
External validity is a major issue with HiNTs.

Providers – Of the 4 studies have examined the operating characteristics of HiNTs, none have used emergency providers and instead have examined how the exam performs in the hands of two neuro-ophthalmologists, neuro-otologists, and neurologists with 4 hours of specialized training in the exam. It's unclear whether HiNTs would be reliable or valid when performed by emergency providers [4-6].
Patients – The patients examined in many of these studies have other indicators of badness on neurologic exam. In one study, patients had to have gait instability and/or truncal ataxia to enroll.  Then, 76/101 (76%) of those patients had a central cause. These patients were sick and not the undifferentiated vertiginous patients we see primarily as emergency providers [4-6].
In the words of leading HiNTs expert Dr. Newman-Toker, HiNTs "requires expertise not routinely available in emergency departments." As such, his team is piloting quantitative video-oculography to aid in diagnosis using HiNTs [7]. An Annals of Emergency Medicine review also warned that HiNTs may not be ready for emergency provider use [9].
More FOAM on HiNTs: EMJclub, EMNerd
Core content 
We delve into core content on vertigo using Rosen's Medicine (8e) Chapter 19,  and Tintinalli's Emergency Medicine: A Comprehensive Study Guide  (7e) Chapter 164 "Vertigo and Dizziness."
Vertigo is often characterized by the sensation of spinning and falls into the broad and frustrating category of "dizziness."  Often, when a dizzy patient presents we perseverate on characterizes what the patient means by "dizzy." However, some argue that this is not an appropriate approach as a study found 50% of patients changed the character of their dizziness when questioned again after 10 minutes [9].  Additionally, the clinical characteristics differentiating peripheral from central causes of vertigo are not entirely reliable. Despite these limitations, it is expected that we are familiar with "classic" presentations.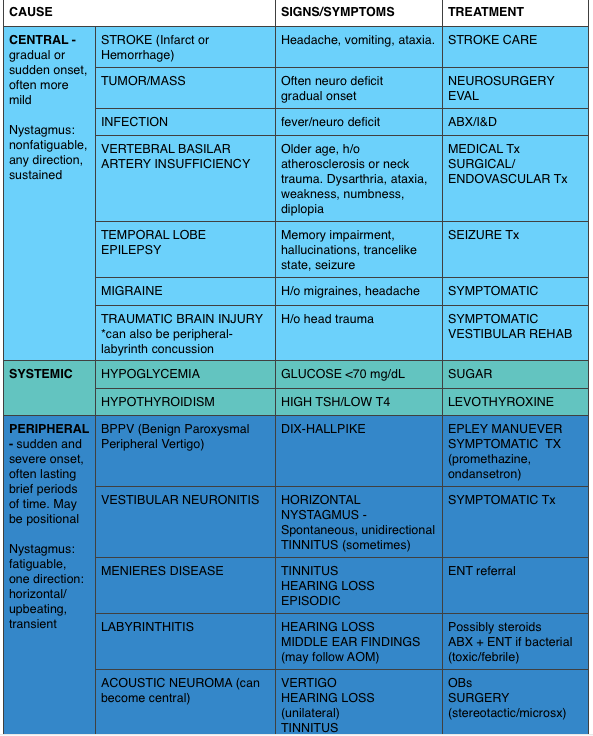 Generously Donated Rosh Review Questions 
A 50-year-old man presents with episodic severe vertigo lasting hours, with associated symptoms of unilateral tinnitus, fluctuating low-frequency hearing loss, and aural fullness. [polldaddy poll=9245427]

A 20-year-old woman presents with an acute onset of dizziness. The patient describes the sensation that the room is spinning when she turns her head to the left and it is accompanied by nausea and vomiting. The symptoms resolve with turning her head away from that side. Examination reveals nystagmus elicited by deviating the eyes to the left and no other neurologic findings. [polldaddy poll=9245971]
Answers
1. B. Meniere's disease is characterized by episodic severe vertigo lasting hours, with associated symptoms of unilateral tinnitus, fluctuating low-frequency hearing loss, and aural fullness. Typical onset is in the fifth decade of life. The cause is uncertain but is speculated to result from allergic, infectious, or autoimmune injury. The histopathologic finding includes endolymphatic hydrops, which is thought to be caused by either overproduction or underresorption of endolymph in the inner ear. Meniere's disease is a clinical diagnosis mostly based on history. Testing may be obtained to support the diagnosis and rule out other disorders. Audiometry often demonstrates a low-frequency sensorineural hearing loss. An FTA-ABS test may be obtained to rule out syphilis. Electronystagmography (ENG) may demonstrate a unilateral peripheral vestibular weakness on caloric testing. When the diagnosis is uncertain, a brain MRI with contrast is obtained to evaluate for a retrocochlear lesion. The differential diagnosis of Meniere's disease includes acute labyrinthitis, neurosyphilis, labyrinthine fistula, autoimmune inner ear disease, vestibular neuronitis, and migraine-associated vertigo.The most common cause of peripheral vestibular vertigo in adults is benign paroxysmal positional vertigo (A). BPPV occurs in all age groups but more often between ages 50 and 70 but is not associated with hearing loss and made worse with movement. In a perilymph fistula (C) rapid changes in air pressure (barotrauma), otologic surgery, violent nose blowing or sneezing, head trauma, or chronic ear disease may cause leakage of perilymph fluid from the inner ear into the middle ear and result in episodes of vertigo. Associated signs and symptoms are variable but can include a sudden pop in the ear followed by hearing loss, vertigo, and sometimes tinnitus. Acute vertigo associated with nausea and vomiting (but without neurologic or audiologic symptoms) that originates in the vestibular nerve is known as vestibular neuronitis (D). Vestibular neuronitis can occur spontaneously or can follow viral illness.
2. B. This patient presents with peripheral vertigo most consistent with benign paroxysmal peripheral vertigo (BPPV) and should be treated with an Epley maneuver. Vertigo is defined as the sensation of disorientation in space combined with a sensation of motion. Patients typically describe a "room-spinning" sensation or the feeling of sea sickness. Vertigo can be divided into two types: central and peripheral. Central vertigo are those disorders arising from the central nervous system and include ischemic stroke, vertebrobasilar insufficiency and infectious causes (meningitis, mastoiditis, syphilis). Central vertigo is characterized by longer duration of symptoms, minimal change with position, gradual onset and multidirectional nystagmus. Peripheral vertigo includes BPPV, Meniere's disease, Labyrinthitis and vestibular neuritis. Peripheral vertigo may have intermittent symptoms (BPPV) or continuous symptoms but should not be associated with other neurologic deficits or changes and should have unidirectional nystagmus. The symptoms in BPPV are elicited by specific movements of the head and relieved by returning the head to a neutral position. The symptoms should be acute in onset and of a short duration. In BPPV, the symptoms are cause by the presence of an otolith in one of the semicircular canals. Although pharmacologic intervention may be necessary in the acute setting with meclizine or benzodiazepines, the best treatment for BPPV is the Epley maneuver. The Epley maneuver is a series of positions that the clinician takes the patient through that leads to expulsion of the otolith from the semicircular canal and relief of symptoms. Imaging with a non-contrast head CT (C) is not indicated in peripheral vertigo of any cause as the patient's pathology is in the inner ear and not the brain. If a central cause is suspected, MRI of the brain (A) is the best test for diagnosis as the causative lesion will likely be in the posterior fossa, which is not seen well on CT scan. Steroid treatment (D) is the indicated management for vestibular neuritis but does not play a role in the treatment of BPPV.
References:
Chang AK, Olshaker AS. Dizziness and Vertigo. In: Marx JA, Hockberger RS, Walls RM eds.  Rosen's Emergency Medicine, 8th e.

Goldman B.

Chapter 164. Vertigo and Dizziness. In:

Tintinalli JE, Stapczynski J, Ma O, Cline DM, Cydulka RK, Meckler GD, T.

eds. Tintinalli's Emergency Medicine: A Comprehensive Study Guide, 7e. New York, NY: McGraw-Hill; 2011.
Wood CD, Graybiel A. Evaluation of sixteen anti-motion sickness drugs under controlled laboratory conditions. Aerospace medicine. 39(12):1341-4. 1968.
Newman-Toker DE, Kattah JC, Alvernia JE, Wang DZ. Normal head impulse test differentiates acute cerebellar strokes from vestibular neuritis. Neurology. 70(24 Pt 2):2378-85. 2008.
Kattah et al. HINTS to Diagnose Stroke in the Acute Vestibular Syndrome Three-Step Bedside Oculomotor Examination More Sensitive Than Early MRI Diffusion-Weighted Imaging. Stroke. 2009; 40: 3504-3510
Newman-Toker et al. HINTS Outperforms ABCD2 to Screen for Stroke in Acute Continuous Vertigo and Dizziness. Academic Emergency Medicine. Volume 20, Issue 10, pages 986–996, October 2013
Newman-Toked DE, Saber Tehran AS, Mantokoudis G et al. Quantitative video-oculography to help diagnose stroke in acute vertigo and dizziness: toward an ECG for the eyes. Stroke. 44(4):1158-61

Cohn B. Can Bedside Oculomotor (HINTS) Testing Differentiate Central From Peripheral Causes of Vertigo? Annals of Emergency Medicine. 64(3):265-268. 2014. 

Edlow JA. Diagnosing Dizziness: We Are Teaching the Wrong Paradigm!. Acad Emerg Med. 20(10):1064-1066. 2013.
Newman-Toker DE, Cannon LM, Stofferahn ME, Rothman RE, Hsieh YH, Zee DS. Imprecision in patient reports of dizziness symptom quality: a cross-sectional study conducted in an acute care setting. Mayo Clinic proceedings. 82(11):1329-40. 2007.

Strupp M, Zingler VC, Arbusow V et al. Methylprednisolone, Valacyclovir, or the Combination for Vestibular Neuritis. N Engl J Med. 351(4):354-361. 2004. 

CFishman JM, Burgess C, Waddell A. Corticosteroids for the treatment of idiopathic acute vestibular dysfunction (vestibular neuritis). The Cochrane database of systematic reviews. 2011. 
Podcast: Play in new window | Download