(ITUNES OR LISTEN HERE)
The Free Open Access Medical Education (FOAM)
This week we're covering a post from the incredible pediatric resource, Don't Forget the Bubbles, "Knee X-ray Interpretation" by Dr. Tessa Davis.  We use a systematic approach to assessing chest x-rays, so why not knee x-rays?
 Know the anatomy
 Look at:

Effusion
Main bones
Tibiofemoral alignment
Tibial plateaus
Intercondylar eminence
Patellar tendon disruption
Patellar fracture
The Bread and Butter
We summarize some key topics from Rosenalli, that's Tintinalli (7e) Chapter s271, 281; Rosen's (8e) Chapters 57, 136.  But, don't just take our word for it.  Go enrich your fundamental understanding yourself.
Knee Dislocation
Anterior is most common (40%), posterior (33%)
Approximately 50% of knee dislocations may be relocated upon presentation to the hospital (this does not reduce risk of badness)
Most worrisome sequelae = popliteal artery disruption.  Of patients with popliteal disruption, the amputation rate rises to 90% 8 hours after the injury without surgical intervention.
Workup may depend on your institution (ex: angiogram vs. CT angio vs. ultrasound) but all patients will need an ABI + 24 hour of pulse checks per current standards.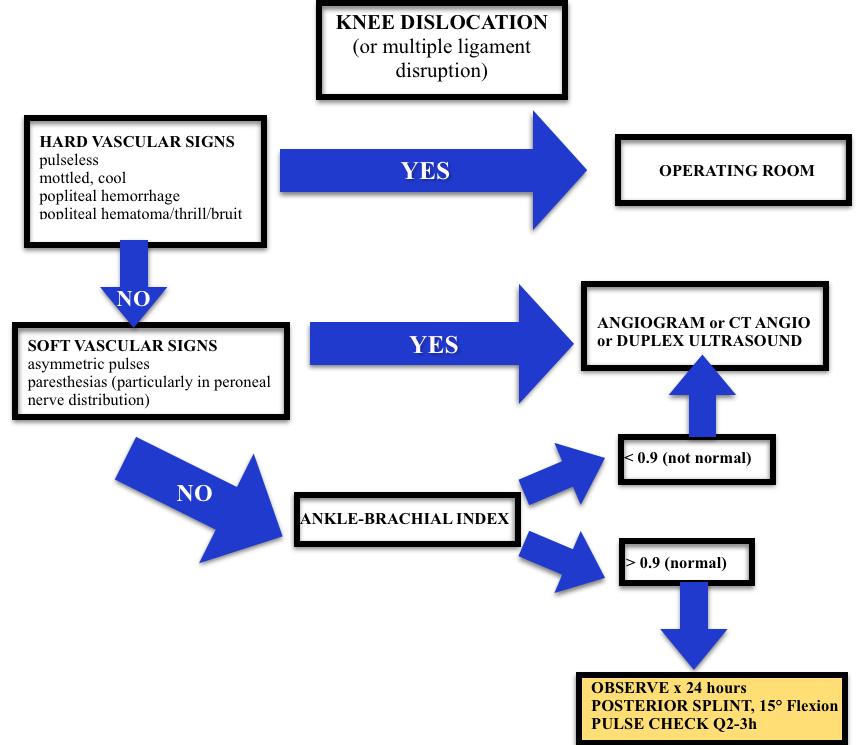 Septic Arthritis
Most Common Organisms: S. aureus, N. gonorrhea
Hematogenous spread
Most Common Location: knee, hip
Risk factors such as immunocompromised hosts and use of steroids are risk factors for septic arthritis but the ones with the highest likelihood ratio (LR+ >10 is ideal):
Skin infection overlying prosthetic joint (LR+ 15)
Joint surgery within the preceding 3 months (LR+ 6.9)
Age > 80 (LR+ 3.5)
Diagnosis:  In the red, hot, swollen, painful joint, think septic arthritis.  Clinical and laboratory indicators aren't great. Synovial fluid analysis, particularly the culture exists as the gold standard.  Arthrocentesis Trick of the Trade from ALiEM. Here are the operating characteristics from Margaretten et al:
Fever: Sensitivity 57%
Lab tests: White Blood Cell count (WBC), sedimentation rate (ESR), and c-reactive protein don't perform well

WBC LR+  1.4 (1.1-1.8); LR- 0.28 (0.07-1.10)
Erythrocyte sedimentation rate 1.3 (1.1-1.8); LR- 0.17 (0.20-1.30)
C-reactive protein  1.6 (1.1-2.5); LR- 0.44 (0.24-0.82)

Synovial fluid gram stain and culture is the "gold standard."

>100,000 WBCs is predictive of septic arthritis with LR+ 25
>50,000 WBCs often used as diagnostic with 75% PMNs but 30% of patients with septic arthritis may have <50K WBCs
Treatment: Intravenous antibiotics and washout of the joint by orthopedics in the operating room
 Generously Donated Rosh Review Questions 
Question 1. A 67-year-old man with a history of gout presents with atraumatic left knee pain. Physical examination reveals an effusion with overlying warmth and erythema. There is pain with passive range of motion. He reports a history of gout in this joint in the past. [polldaddy poll=8568492]
Question 2.  A 27-year-old woman presents with severe left knee pain after an MVC where she was the front passenger. She states her knee hit the dashboard. An X-ray of the patient's knee is shown below. After reduction, the physical examination reveals swelling of the knee and an Ankle-Brachial Index (ABI) of 0.8. [polldaddy poll=8569540]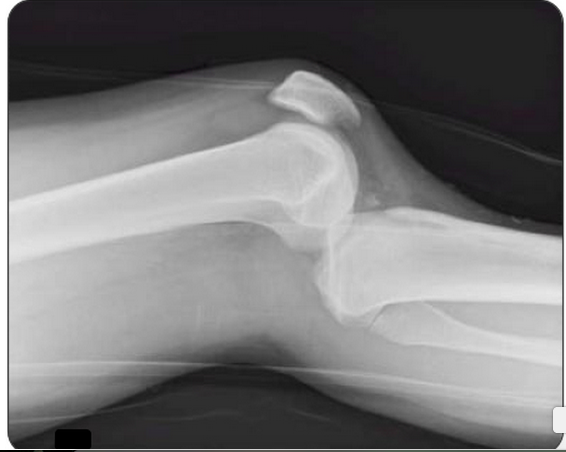 Answers.
1. D. Septic arthritis is a bacterial or fungal infection of a joint typically spread hematogenously unless there is direct bacterial tion) and decreased range of motion often accompanied by warmth, erythema and fever. This patient may have an acute gouty flare, but the clinician must exclude an infection. On joint fluid analysis, the white blood cell count of a septic joint is typically > 50,000.
Indomethacin (B) is a non-steroidal anti-inflammatory agent commonly used in the treatment of acute gout. Gout is an arthritis caused by deposition of monosodium urate monohydrate crystals in the joint space. Acute flares involve a monoarticular arthritis with a red, hot, swollen and tender joint. Acute episodes of gout result from overproduction or decreased secretion of uric acid. However, measurement of serum uric acid (C) does not correlate with the presence of absence of an acute flare. A radiograph of the knee (D) may show chronic degenerative changes associated with gout but will not help to differentiate a gouty arthritis versus septic arthritis.
contamination. The synovium is highly vascular and lacks a basement membrane making it susceptible to bacterial seeding. Certain conditions predispose individuals to septic arthritis including diabetes, sickle cell disease, immunocompromise, alcoholism or pre-existing joint disease like rheumatoid arthritis or gout. Fever is present in less than half of cases of septic arthritis so with clinical suspicion an arthrocentesis is indicated. The knee is the most common joint affected and patients have pain (especially on passive range of mo
2. C. Obtain Angiography. This patient presents with a knee dislocation and signs of a popliteal artery injury requiring angiography for diagnosis. A knee dislocation refers to a dislocation of the tibia in relation to the femur and not a patellofemoral dislocation. A tibiofemoral dislocation is a limb-threatening emergency due to the high rate of popliteal artery injury. The neurovascular bundle (popliteal artery, popliteal vein and common peroneal nerve) runs posteriorly in the popliteal fossa. The popliteal artery is tethered to the femur and tibia by a fibrous tunnel and is inherently immobile making it susceptible to injury during dislocation. Knee dislocations typically occur in major trauma. An MVC where the knee strikes the dashboard is a common scenario. The dislocation is usually clinically obvious and should be emergently reduced regardless of the presence of confirmatory X-rays. The leg should rapidly be assessed for any "hard" signs of vascular injury including an absence of pulse, limb ischemia, rapidly expanding hematoma, the presence of a bruit or thrill and pulsatile bleeding. Neurologic status should also be assessed prior to and after reduction. After reduction, all patients should have ankle-brachial index (ABI) performed. A normal ABI is > 0.9. Any patient with an ABI less than this should be further investigated for a popliteal injury with angiography. Splint and elevation (D) may be appropriate once a vascular injury is ruled out. The patient should not be discharged home (A) with an abnormal ABI. Observation and repeat ABI (B) is indicated if the initial ABI is normal.
Podcast: Play in new window | Download