Episode 4 – Transfusion Emergencies (iTunes or Listen Here) 
The Free Open Access Medical Education (FOAM) –from Dr. Ryan Radecki's erudite blog, Emergency Medicine Literature of Note..
"Infections & Transfusions" – a JAMA meta-analysis found that higher hemoglobin targets were associated with an increased incidence of infection with a number needed to harm of 20-38.  The  group with a target level of 7-9 g/dL had an infection rate of 11.8% (95% CI, 7.0%-16.7%)  compared with an infectious complication rate of 16.9% (95% CI, 8.9%-25.4%) in the "liberally" transfused group.
"Grilling Injuries on Memorial Day" – Grilling isn't risk free.  Dr. Radecki reviewed a case series of six individuals who presented in one year to a hospital after ingesting meat cooked on a grill.  Three patients had neck pain with wire grill bristles removed via laryngoscopy and three had abdominal pain necessitating removal – 2 by colonoscopy and 1 with urgent surgery secondary to intestinal perforation.
The Bread and Butter
We summarize some key topics from the following readings,  Tintinalli (7e) Chapters 233; Rosen's (8e) Chapter 7…but, the point isn't to just take our word for it.  Go enrich your fundamental understanding yourself!
Transfusion Reactions
Immediate Reactions – great FOAM summary from Life in the Fast Lane: Transfusion Risks, Transfusion Reactions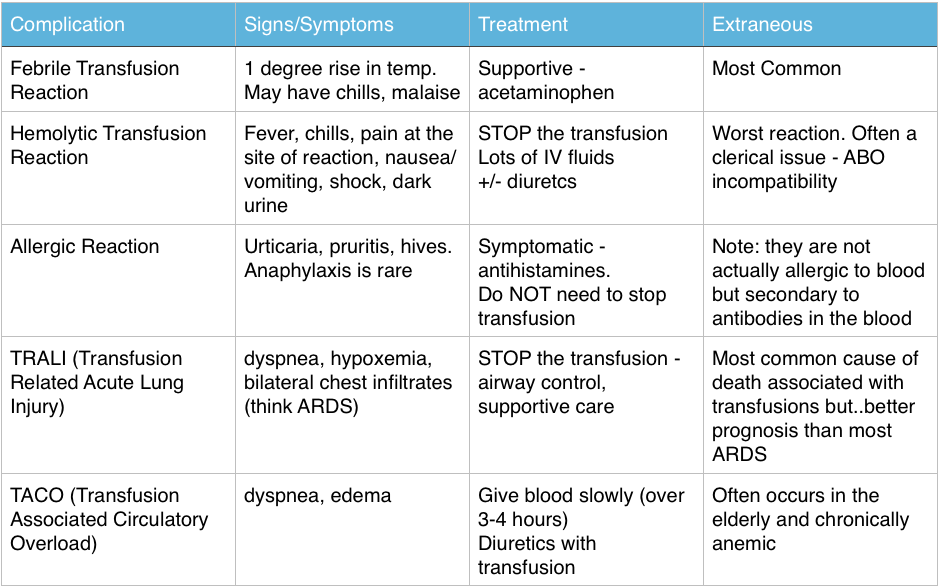 The Ones Our Patients Care About (Infectious – statistics are US based)
Bacterial contamination is rare: 1/500,000 – 1/1,000,000

Most common pathogen: Yersinia Entercolitica

More common in platelets: 1/1000-1/2000 per Rosen, CDC, and the AABB  (Tintinalli cites 1 in 6 million)
Most Common virus: Parvovirus B19 (1 in 10,000).  The others are very very rare: HIV and Hepatitis C > 1 in 1 million, Hepatitis B 1 in 100,000-200,000
Ingested Foreign Bodies
Beware the button battery. These can cause necrosis within hours in the esophagus and must be removed ASAP.
Objects that are irregular, very sharp, or have dimensions greater than 2.5cm in width or 6 cm in length that are still in the stomach or duodenum – call GI to have these removed via endoscopy.
Generously donated Rosh Review questions (scroll for answers)
Question 1 A 55-year-old woman is receiving a blood transfusion due to persistent vaginal bleeding and a hemoglobin of 5 mg/dL. While receiving the transfusion, she develops fever, chills, back pain, pain at the site of transfusion, and tachycardia. [polldaddy poll=8109900]
Question 2 A 28-year-old man presents with a 1-day history of rectal bleeding. In the ED, he is hypotensive, thrombocytopenic, and is found to be passing melena. He receives a transfusion of platelets and packed red blood cells as part of his resuscitation. Twenty minutes after the start of his platelet transfusion, his BP is 90 mm Hg systolic, he becomes dyspneic, and his oxygen saturation drops from 99% on room air to 91% on 2L of oxygen supplementation. On exam, you note rales at the lung apices and that he is using accessory muscles to breathe. His chest radiograph shows diffuse interstitial infiltrates. [polldaddy poll=8109907]
Question 3 [polldaddy poll=8109908]
References:
Emery M.  Blood and Blood Products.  Rosen's Emergency Medicine. 2014: 8th ed. p 75-80.e2
Coil CJ, Santen SA.  Transfusion Therapy  Tintinalli's Emergency Medicine: A Comprehensive Review. 7th ed.
Hillyer CD, Josephson CD, Blajchman MA, et al. Bacterial contamination of blood components: risks, strategies, and regulation: joint ASH and AABB educational session in transfusion medicine. Hematology Am Soc Hematol Educ Program. 2003:575-89.
1. C – Up to 20% of all transfusions may lead to some type of adverse reaction. Although most of these reactions are minor, some are life-threatening. The patient is having an acute intravascular hemolytic reaction. This occurs when the recipient's antibodies recognize and induce hemolysis of the donor's red blood cells and may result in activation of the coagulation system and disseminated intravascular coagulation. This type of reaction typically presents with back pain, pain at the site of transfusion,headache, fever, hypotension, dyspnea, tachycardia, chills, bronchospasm, pulmonary edema, bleeding, and development of renal failure. First, stop the transfusion. Then initiate intravenous hydration to maintain diuresis.
2.D- This patient is most likely suffering from transfusion-related acute lung injury (TRALI), one of the leading causes of transfusion-related mortality. It is most closely associated with platelet and fresh frozen plasma transfusions, though cases have been reported with packed red blood cells since there is some residual plasma in the packed cells. Symptoms begin abruptly during transfusion or within 6 hours and resemble adult respiratory distress syndrome with noncardiogenic pulmonary edema, dyspnea, hypoxemia, and bilateral infiltrates on chest radiograph.
3. A- The patient is experiencing an allergic reaction without serious signs or symptoms. The transfusion does not need to be stopped for such a reaction; an antihistamine will help to relieve symptoms.
Podcast: Play in new window | Download